Missed the Boat?
Get onboard. Everybody's doing it!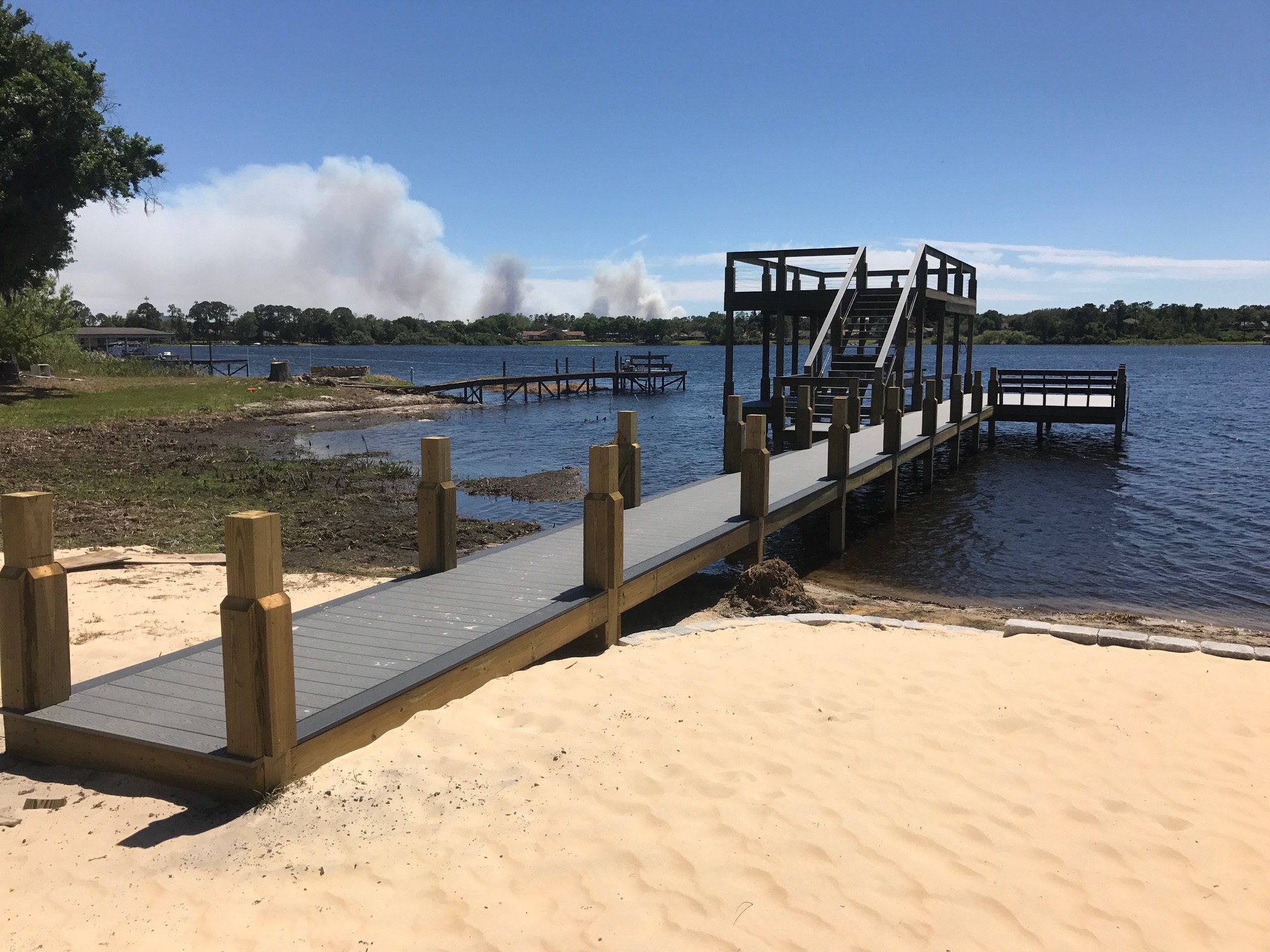 "Double Decker" Dock
This dock was constructed using Trex Select (grey) with a picture frame border. The stainless steel cable railing minimizes any obstructions to the view.
Screen Time
When you're on Lake Apopka, there's no such thing as too much screen time. Plenty of great views from this dock...if the bugs don't carry you away!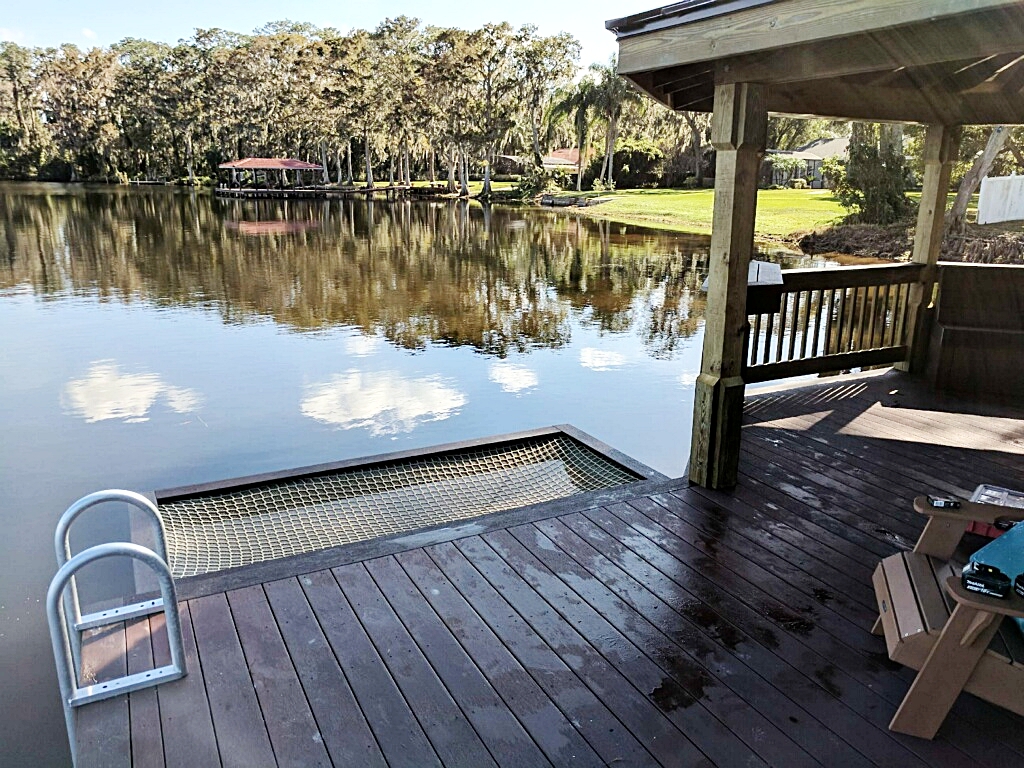 Open Water Rest
What better way to catch an afternoon nap than in the built-in hammock?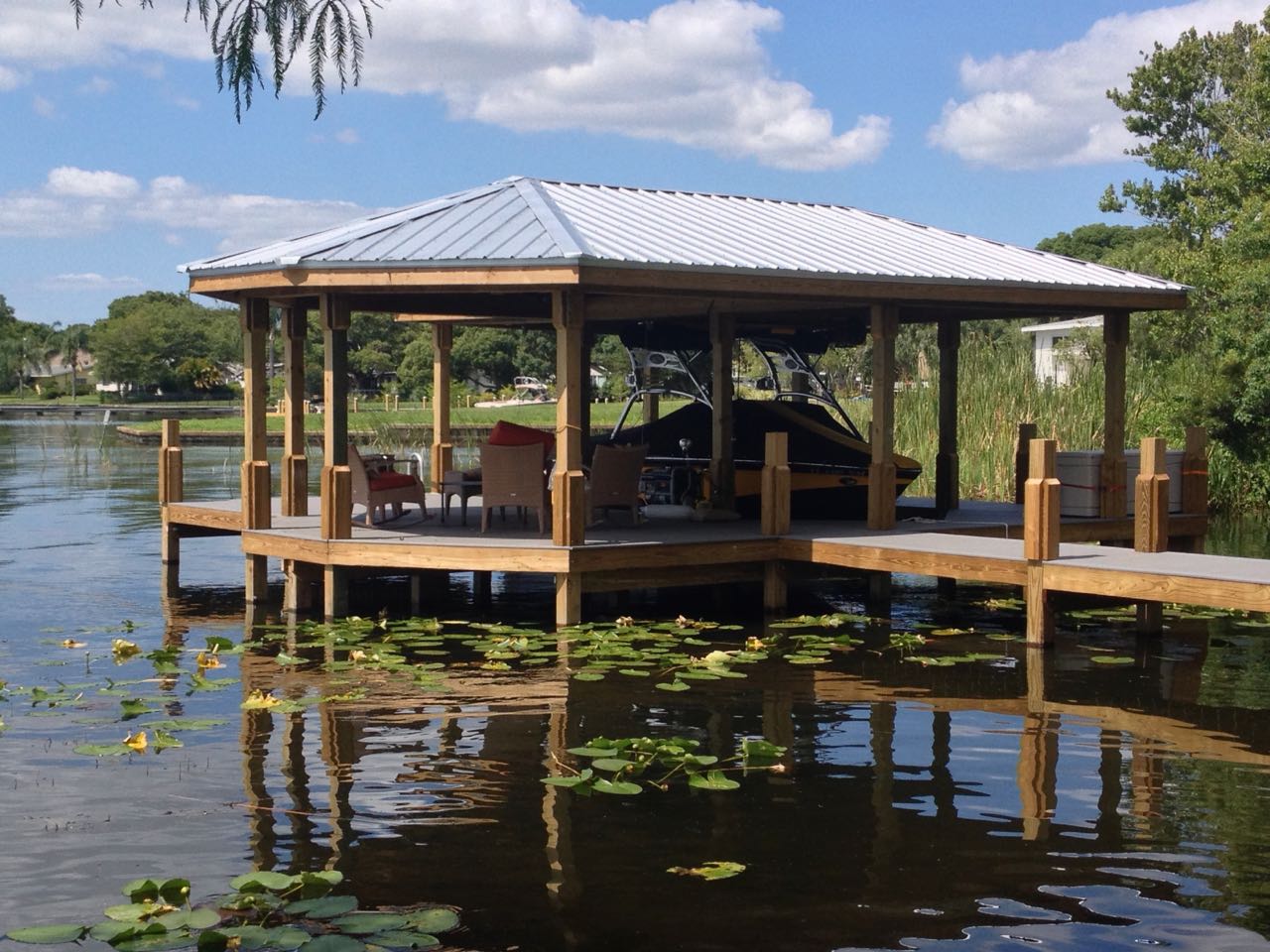 Metal-morphosis
The addition of the dock with metal roof to the property served to add additional light to a shadowed corner of the lake. The maintenance free aspect of the metal roof speaks for itself as well.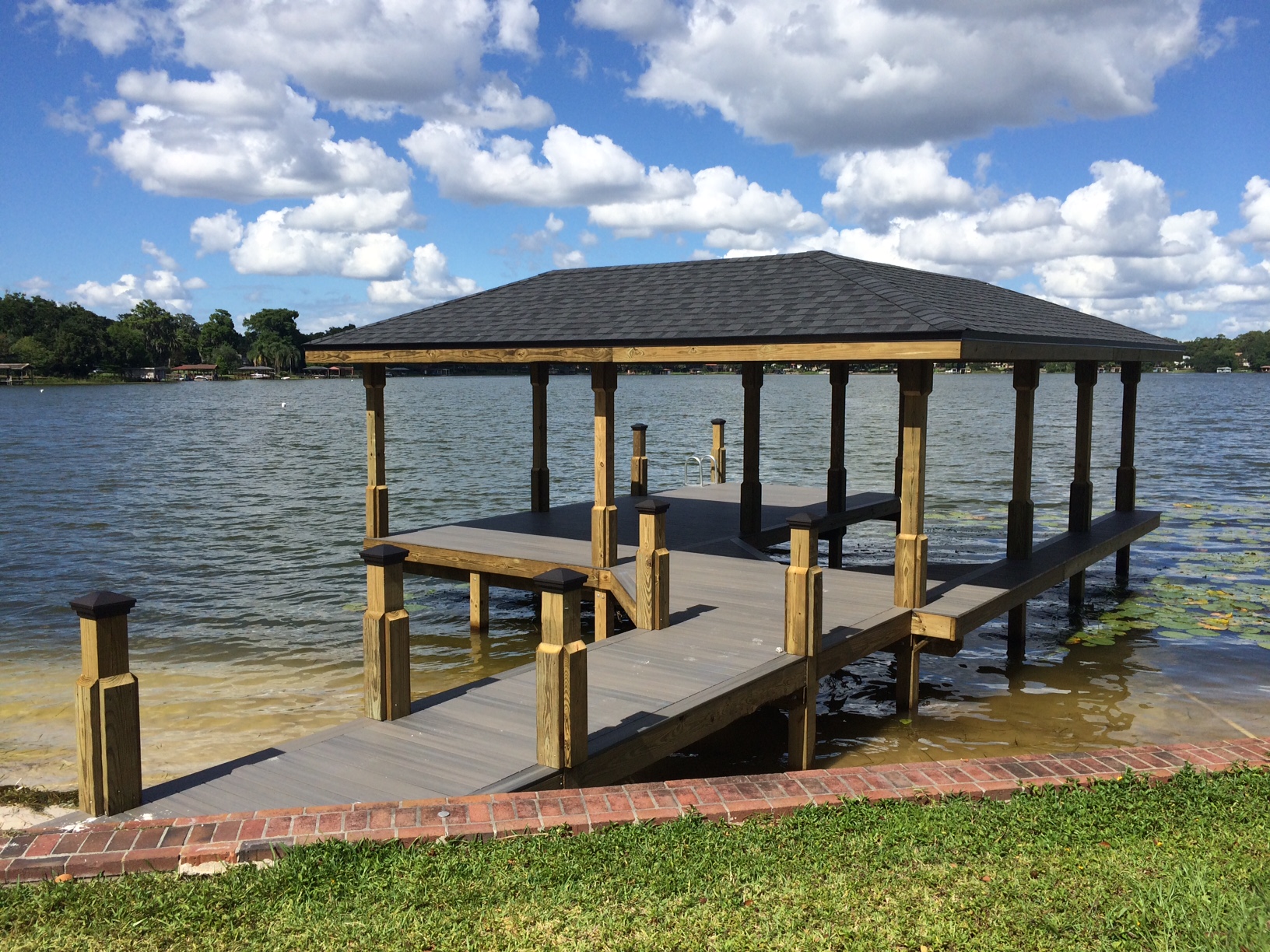 Ready for Relaxation
Summertime provides the dock - you provide the enjoyment.
Buttoned up!
This dock looks like it is wearing formal wear compared to the neighboring docks. Very well thought out layout by our client.
Watch Your Step Down
The decking was angled in the opposite direction on the lower landing to make it stand out and avoid any mishaps from unsuspecting visitors to the dock.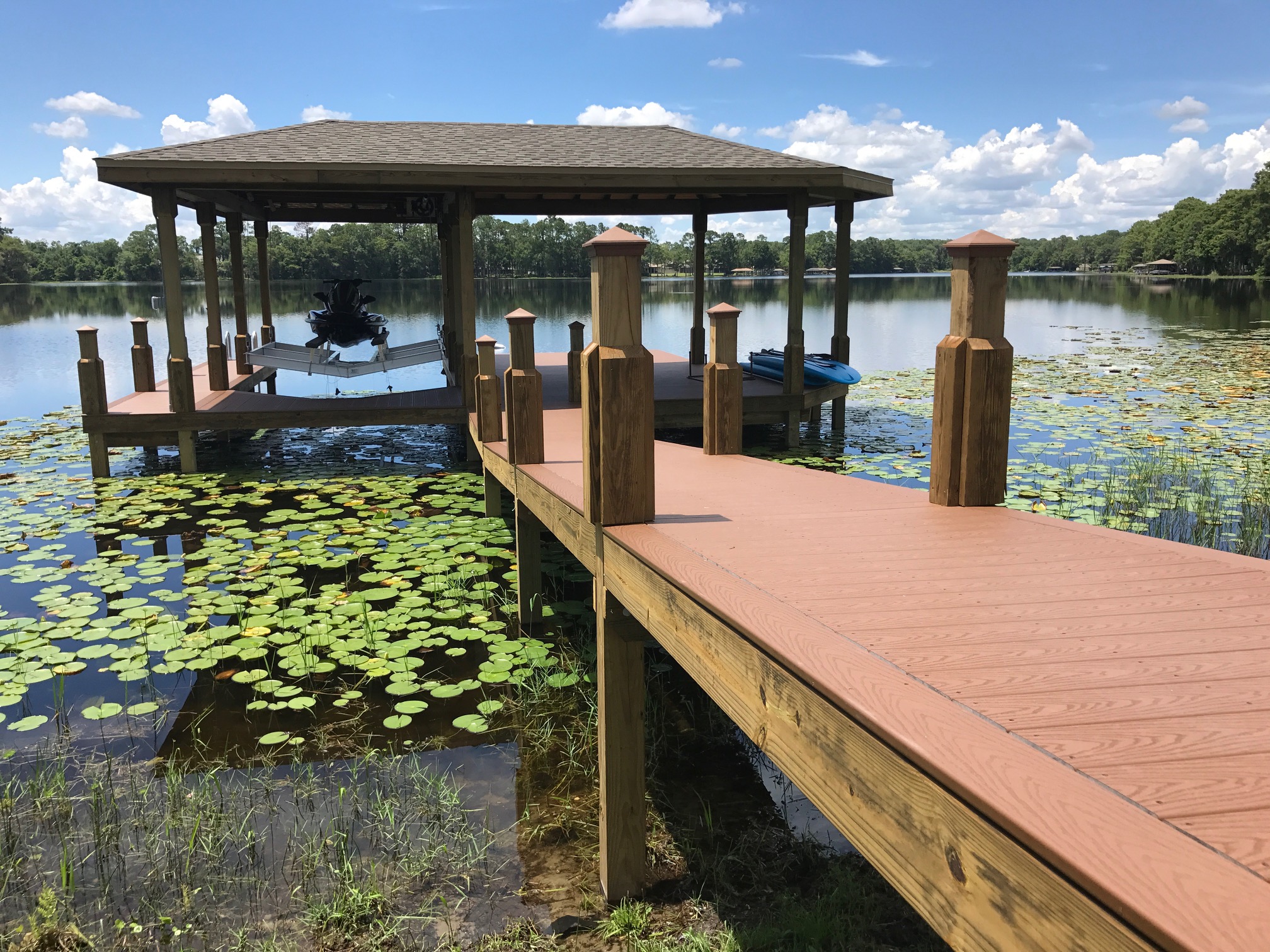 Ready for Good Times
Blue skies and glassy waters? Time to enjoy your Summertime.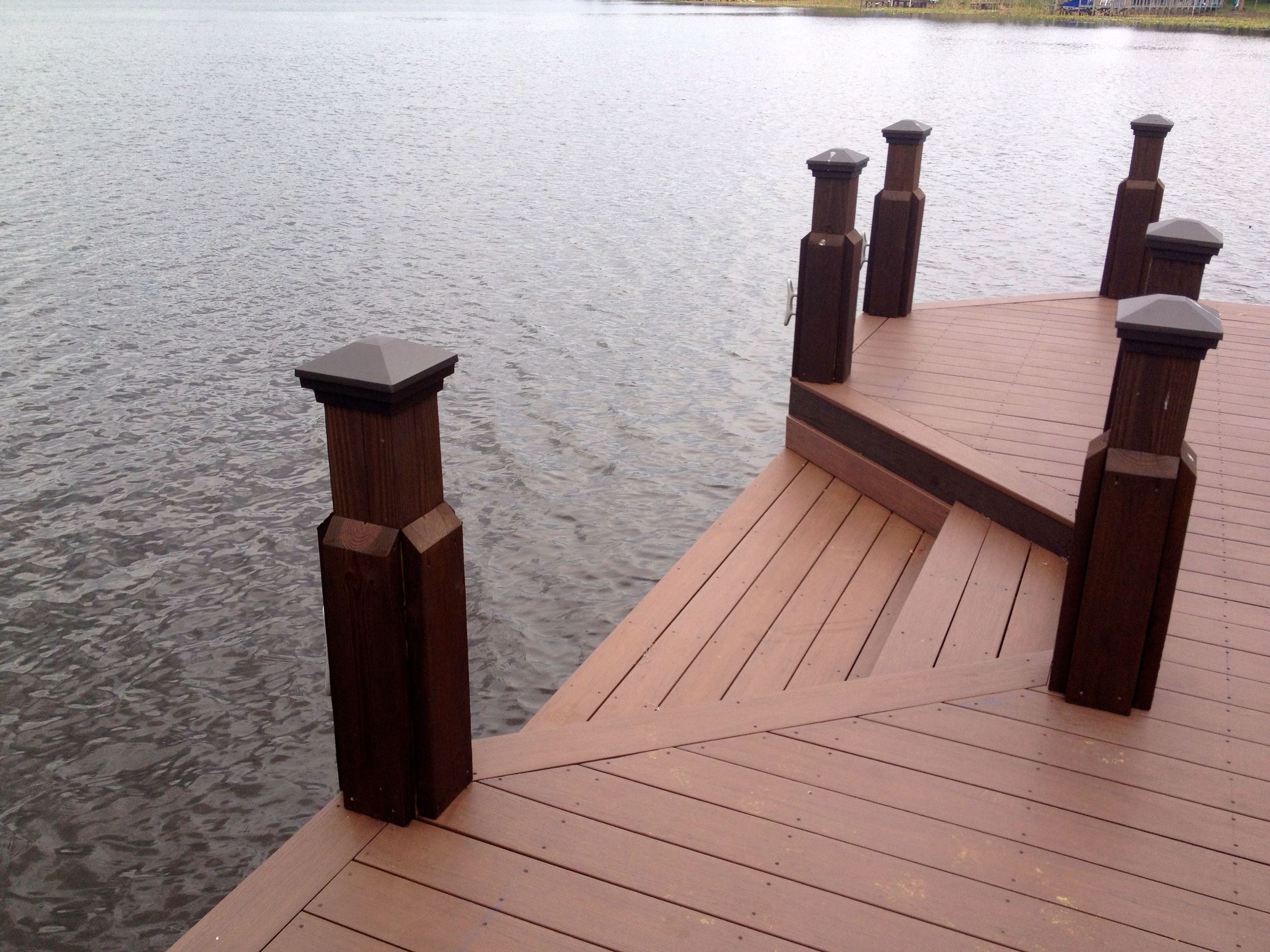 Picture Frame Loading Area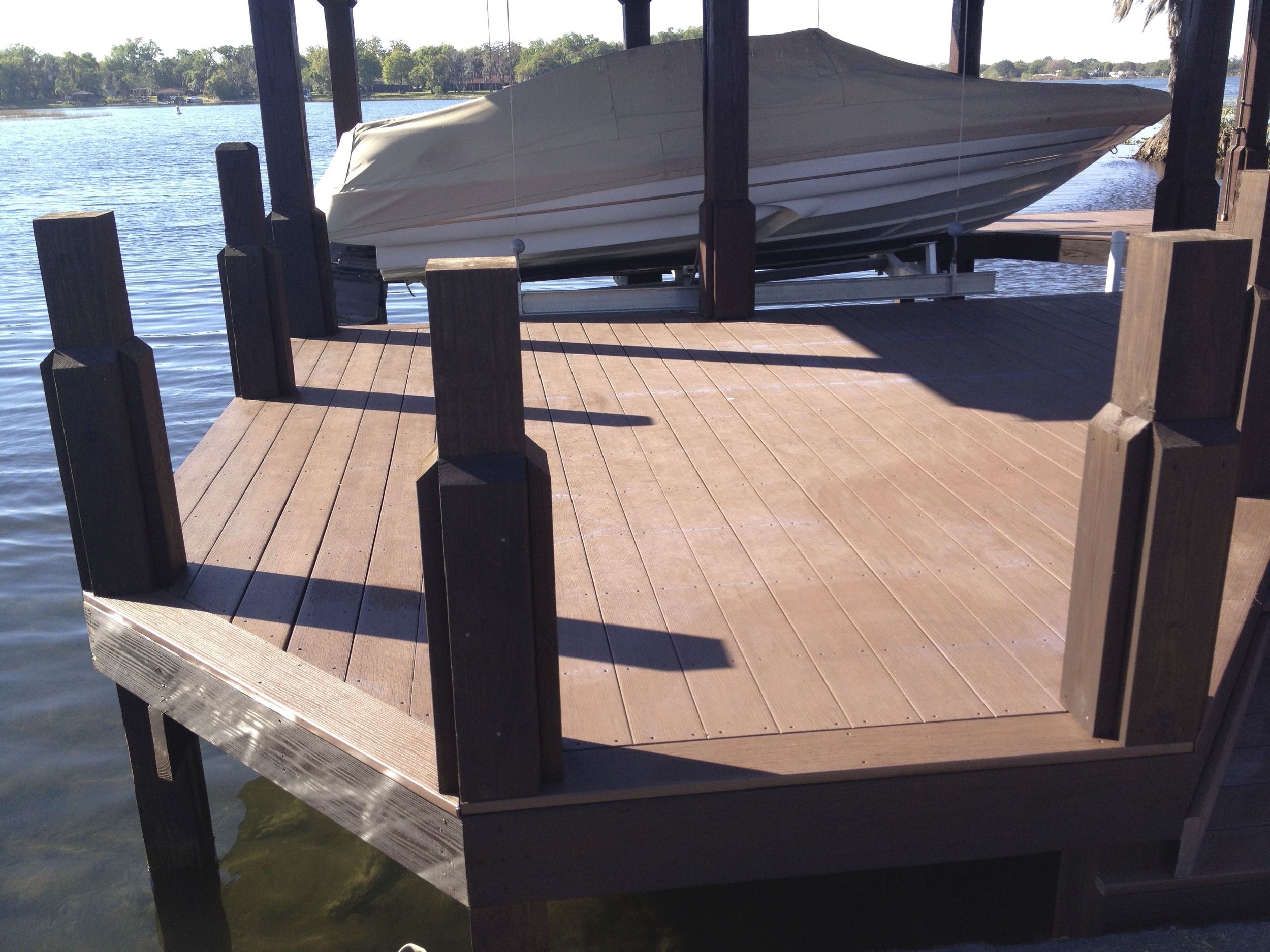 Octagonal Platform with Picture Framing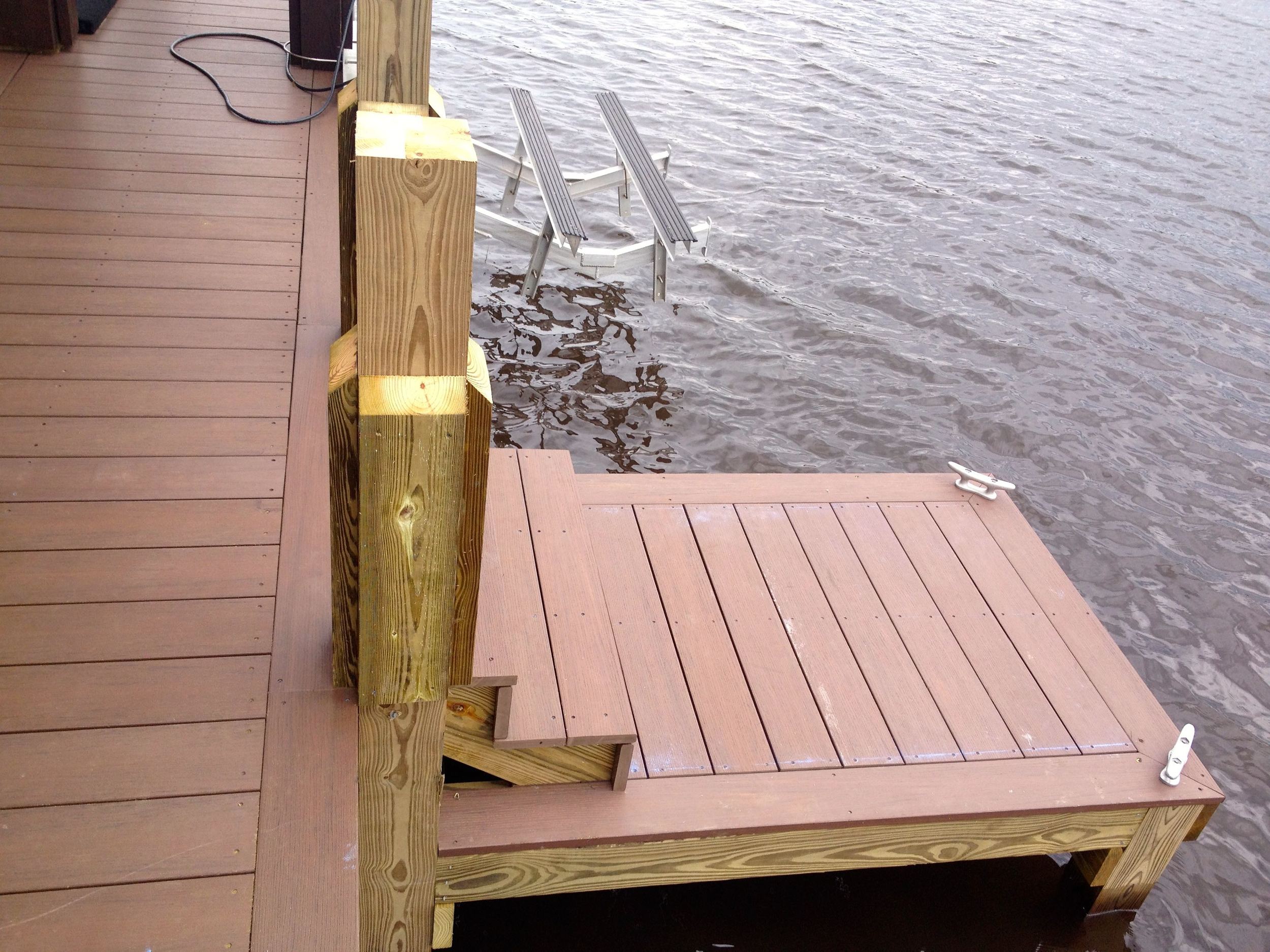 Picture Frame Launch Platform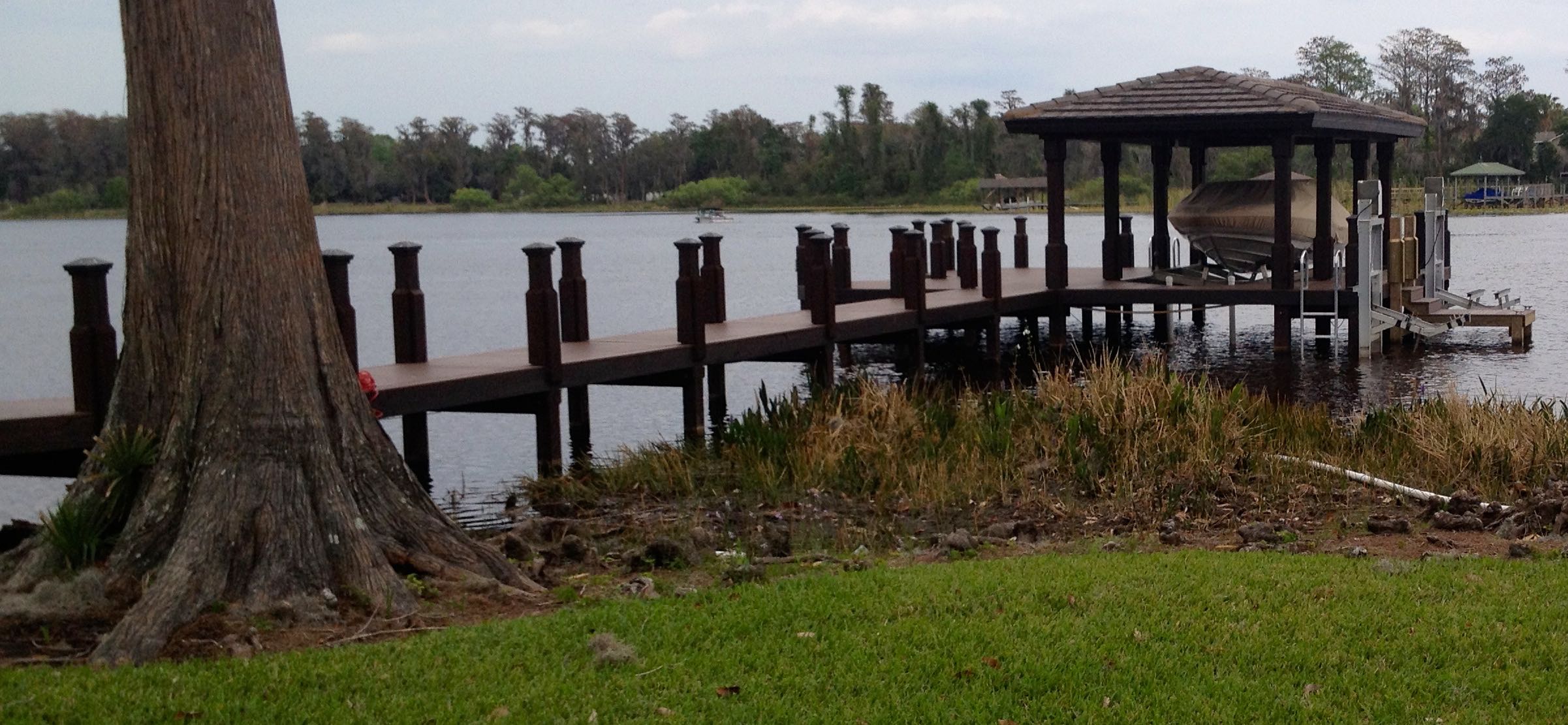 Dock with Boathouse and PWC Lifts
Fore!
This balcony is designed to maximize the view of the golf course - beware - not all golfers can keep it on the course!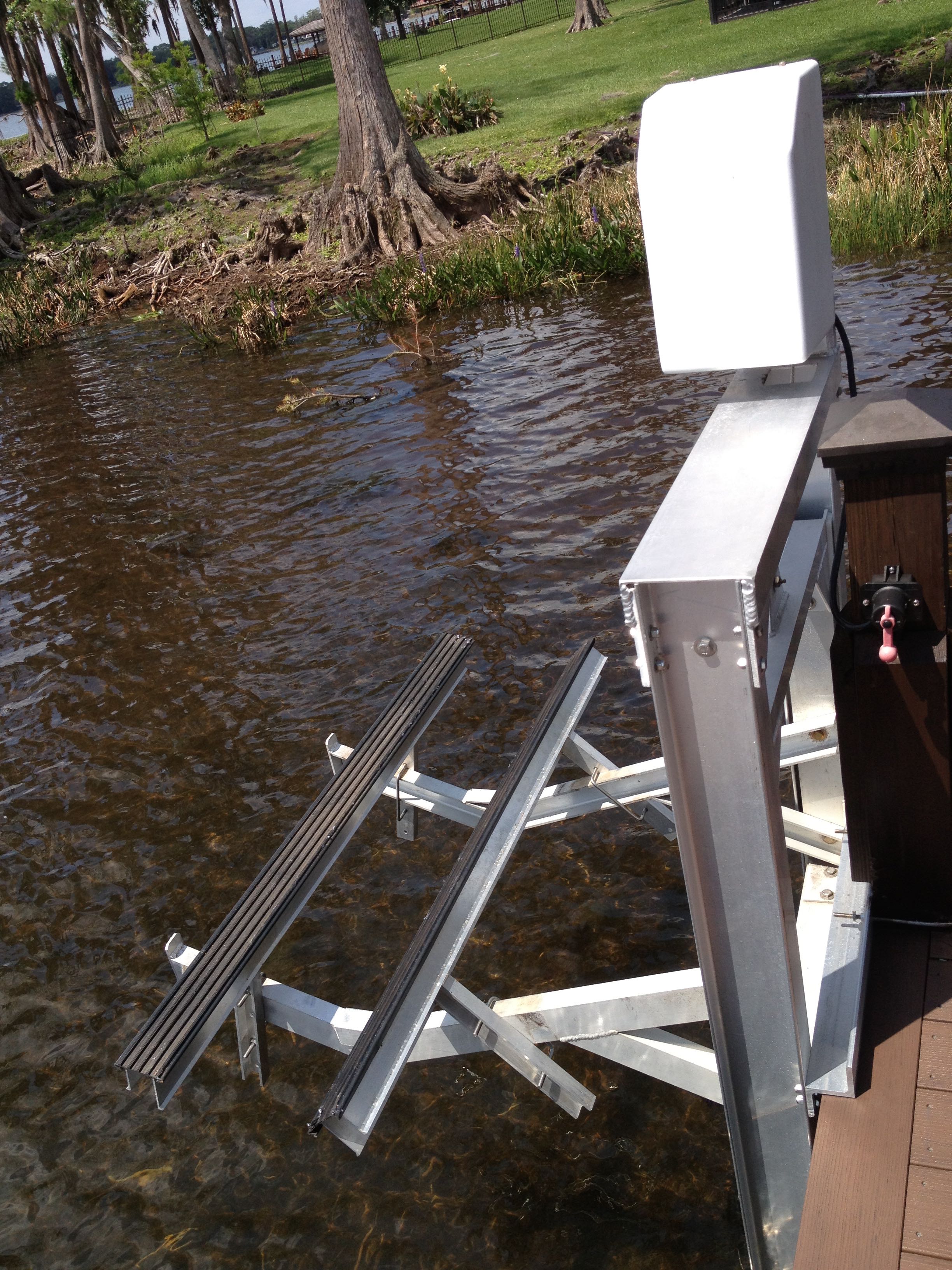 Dock Mounted Jet Ski Lift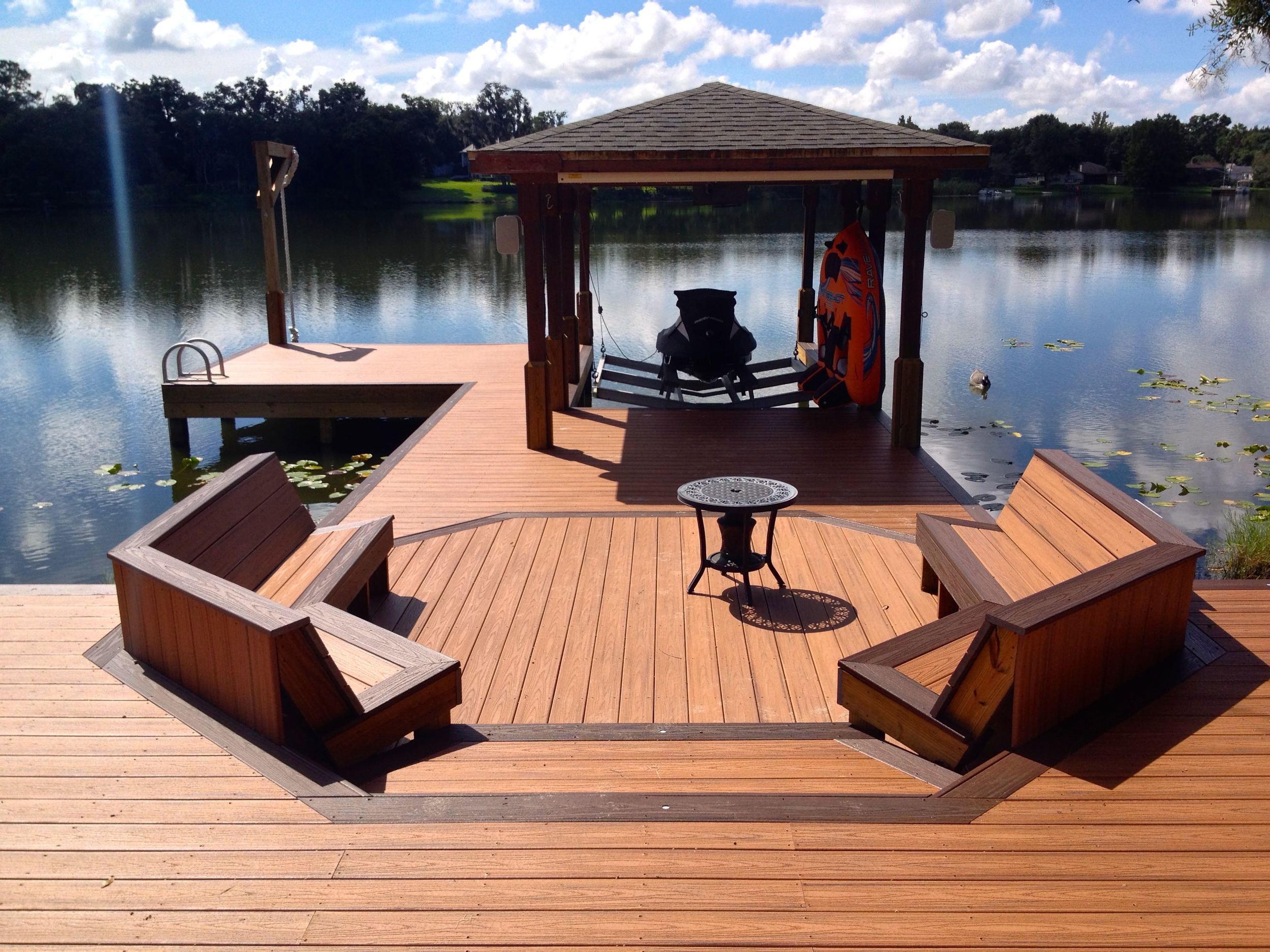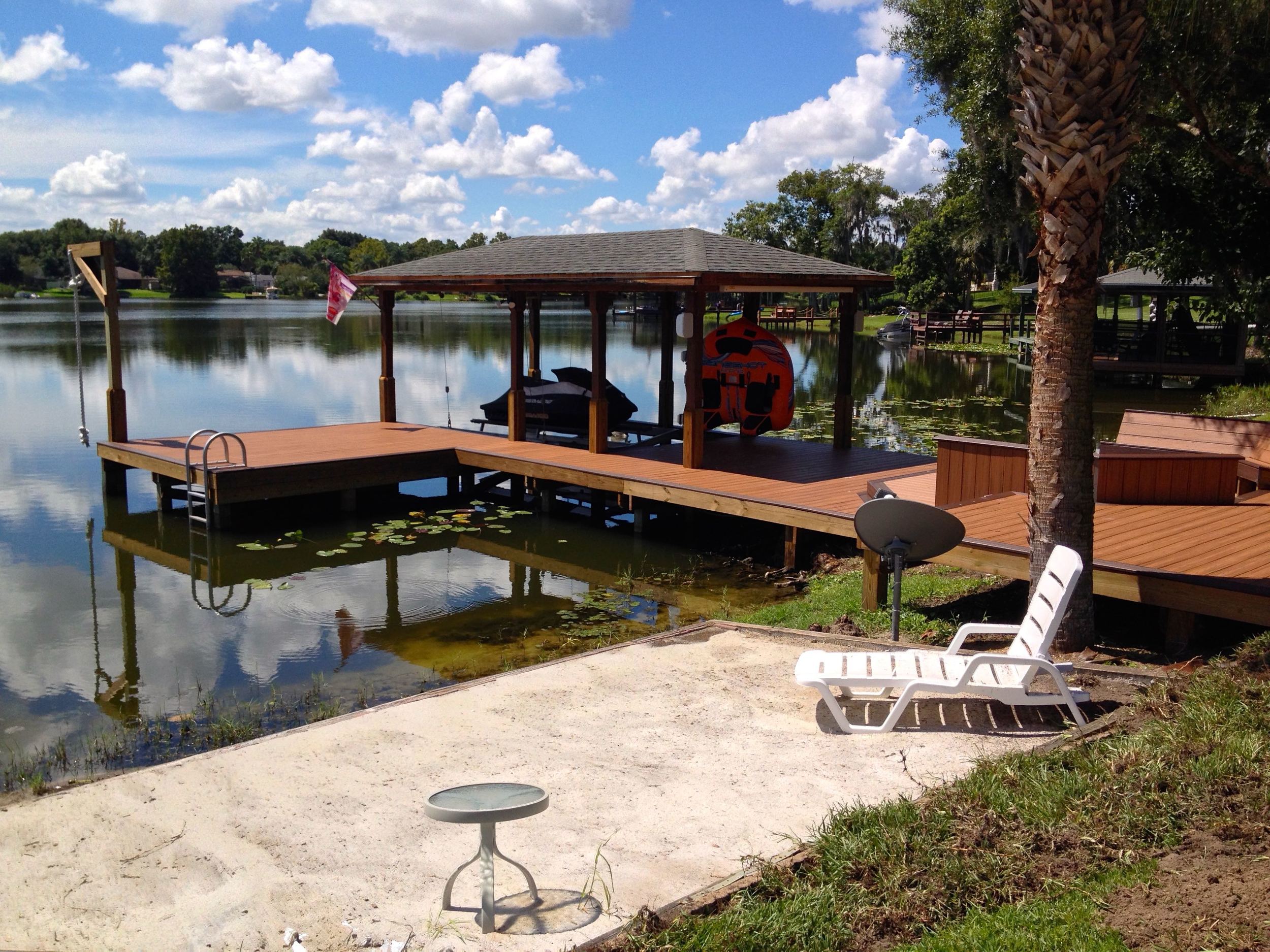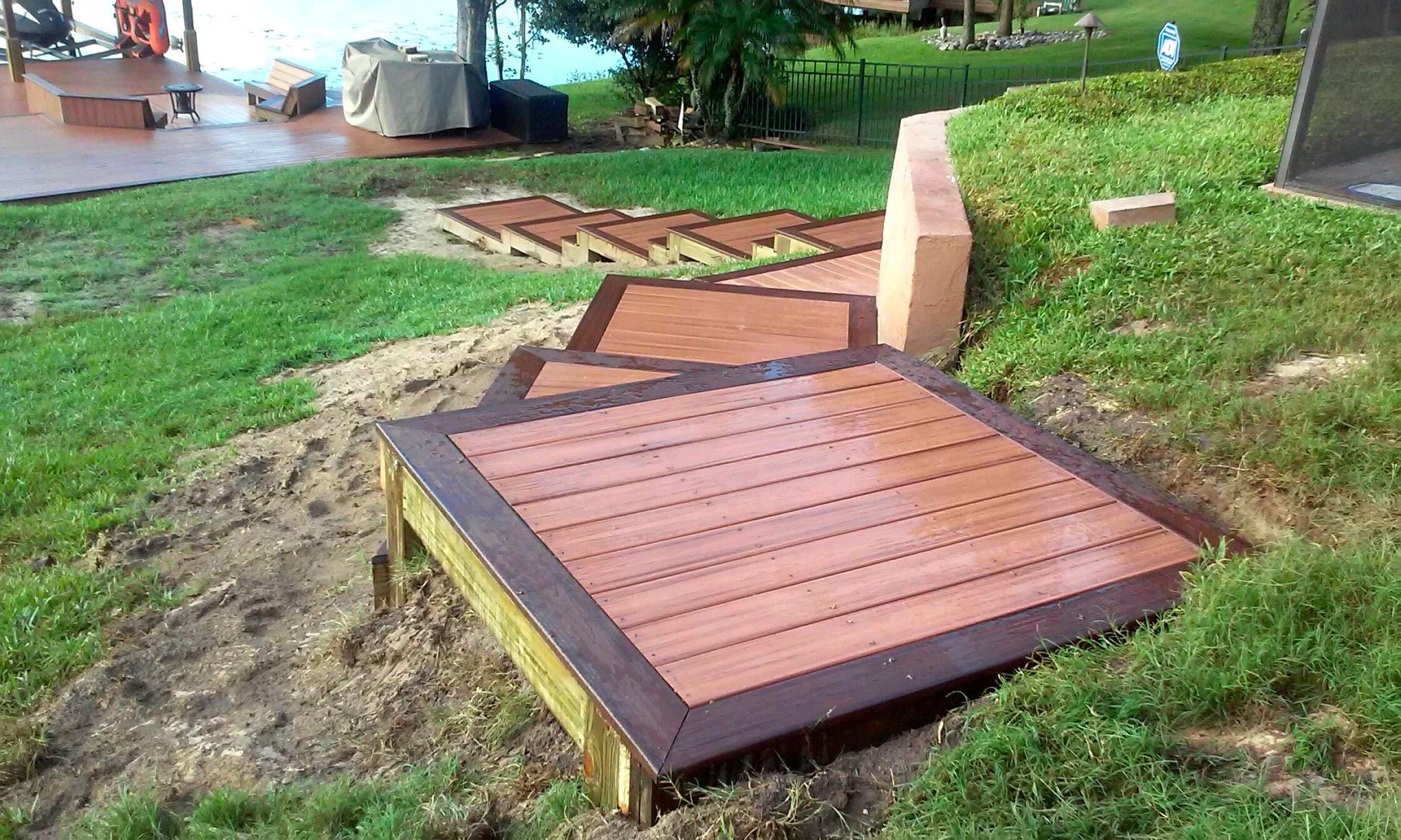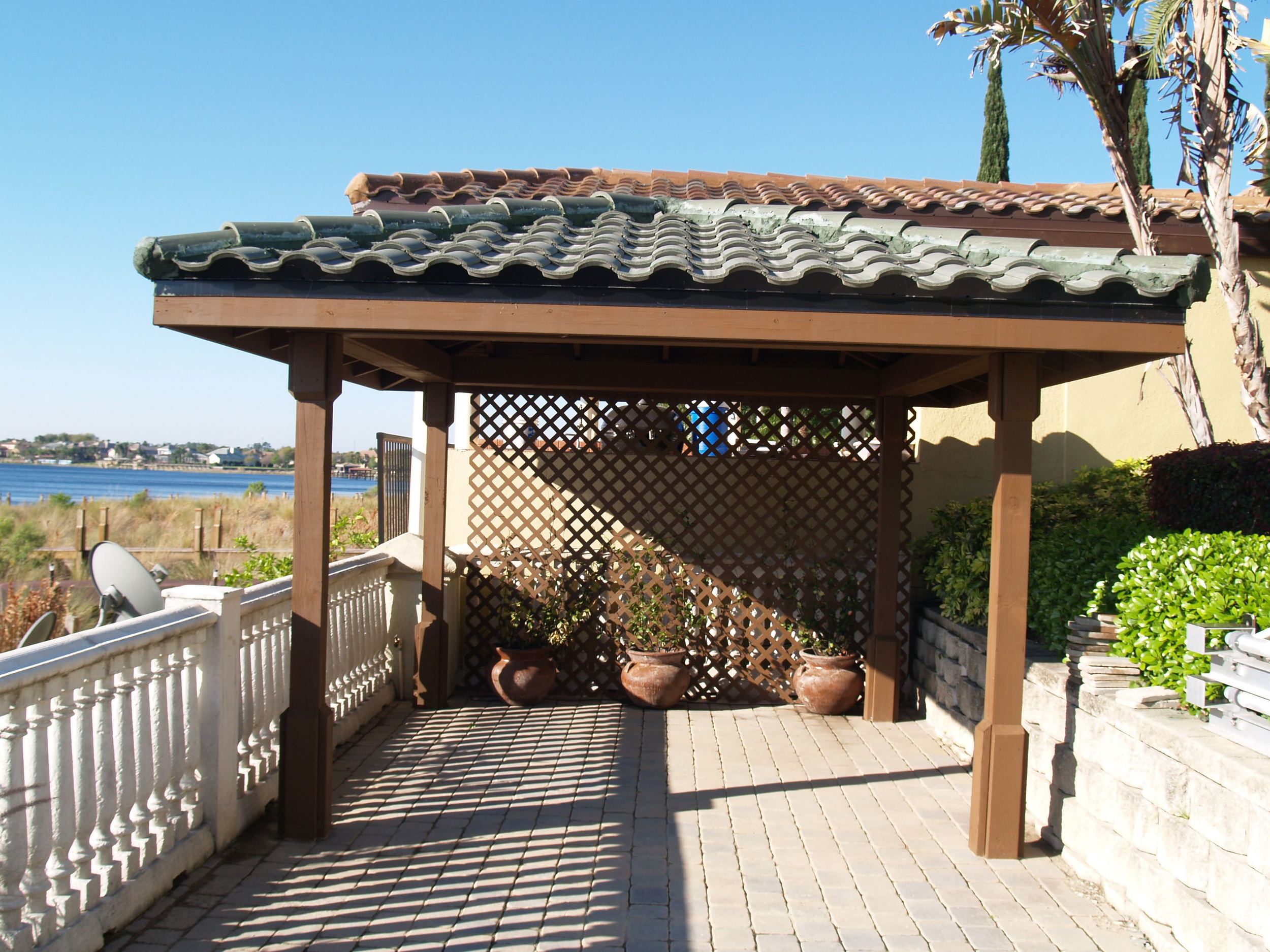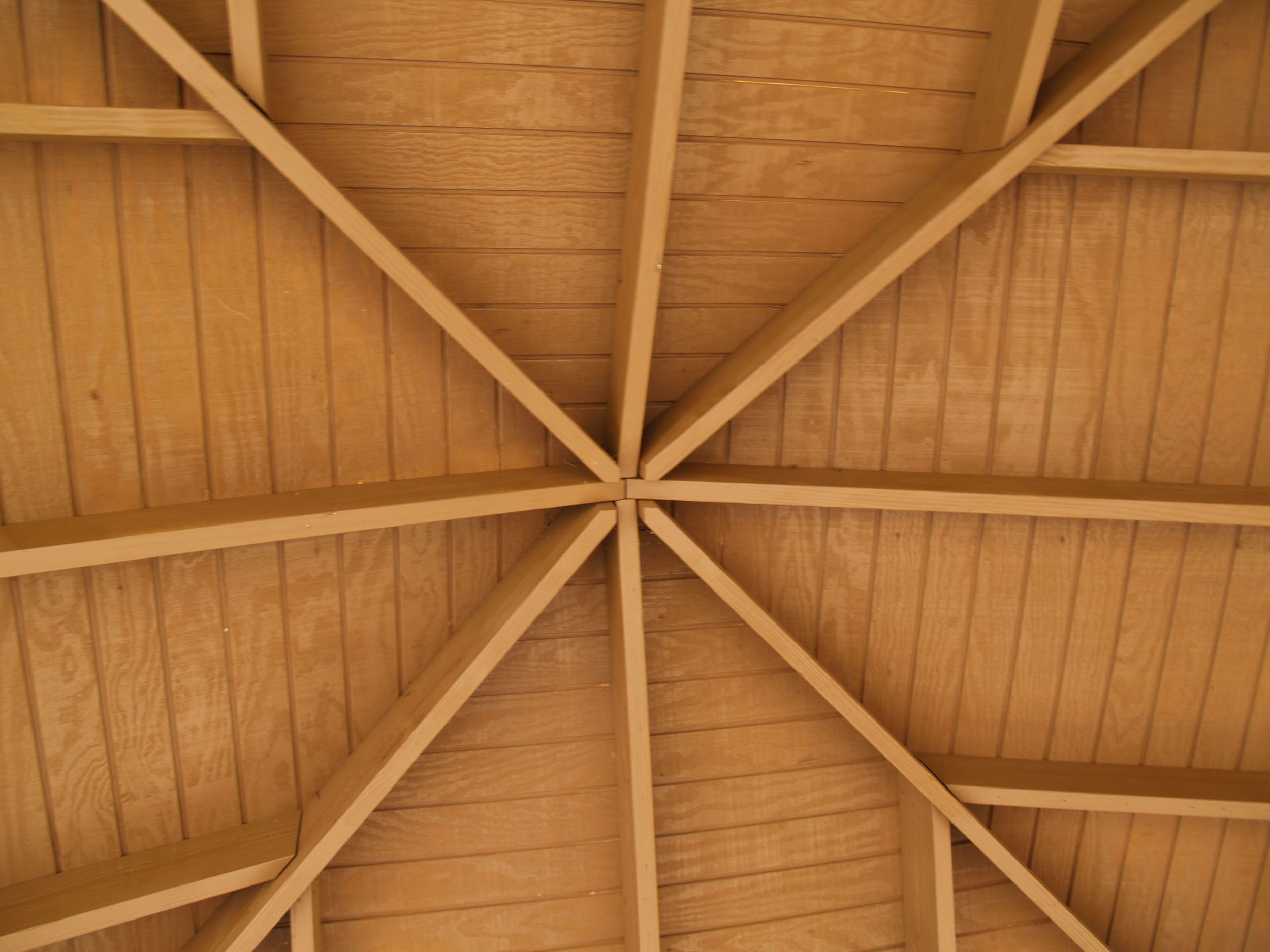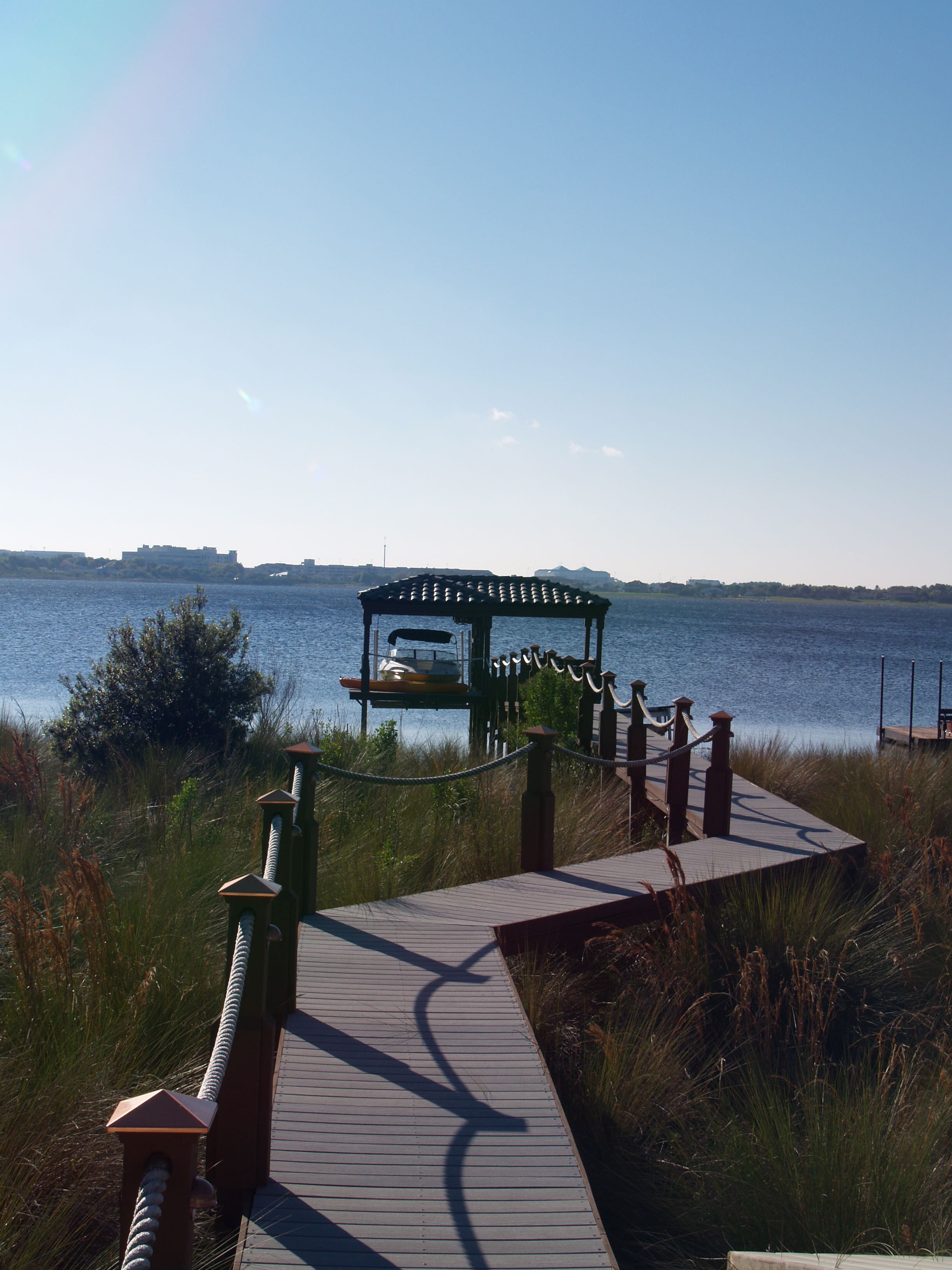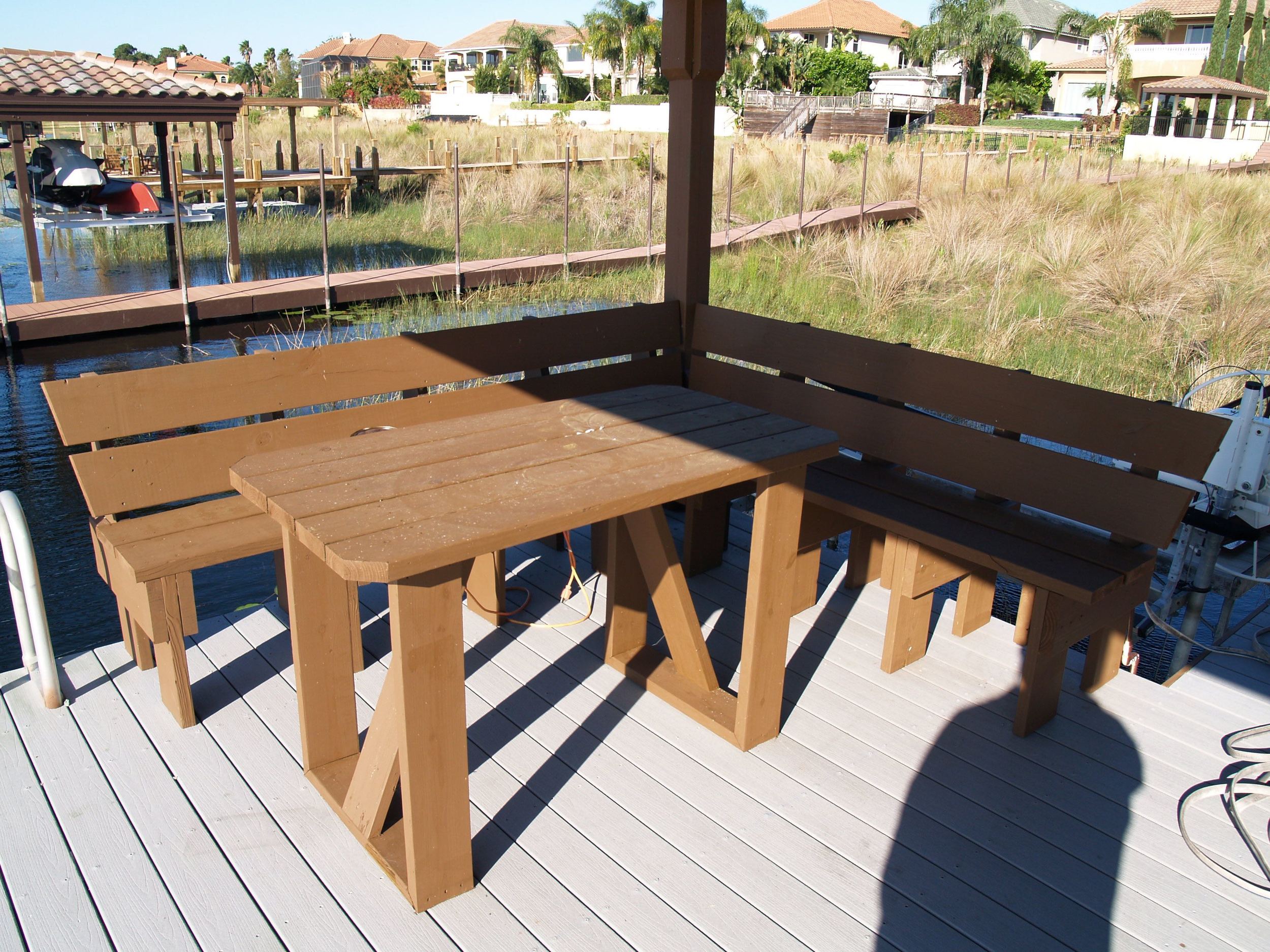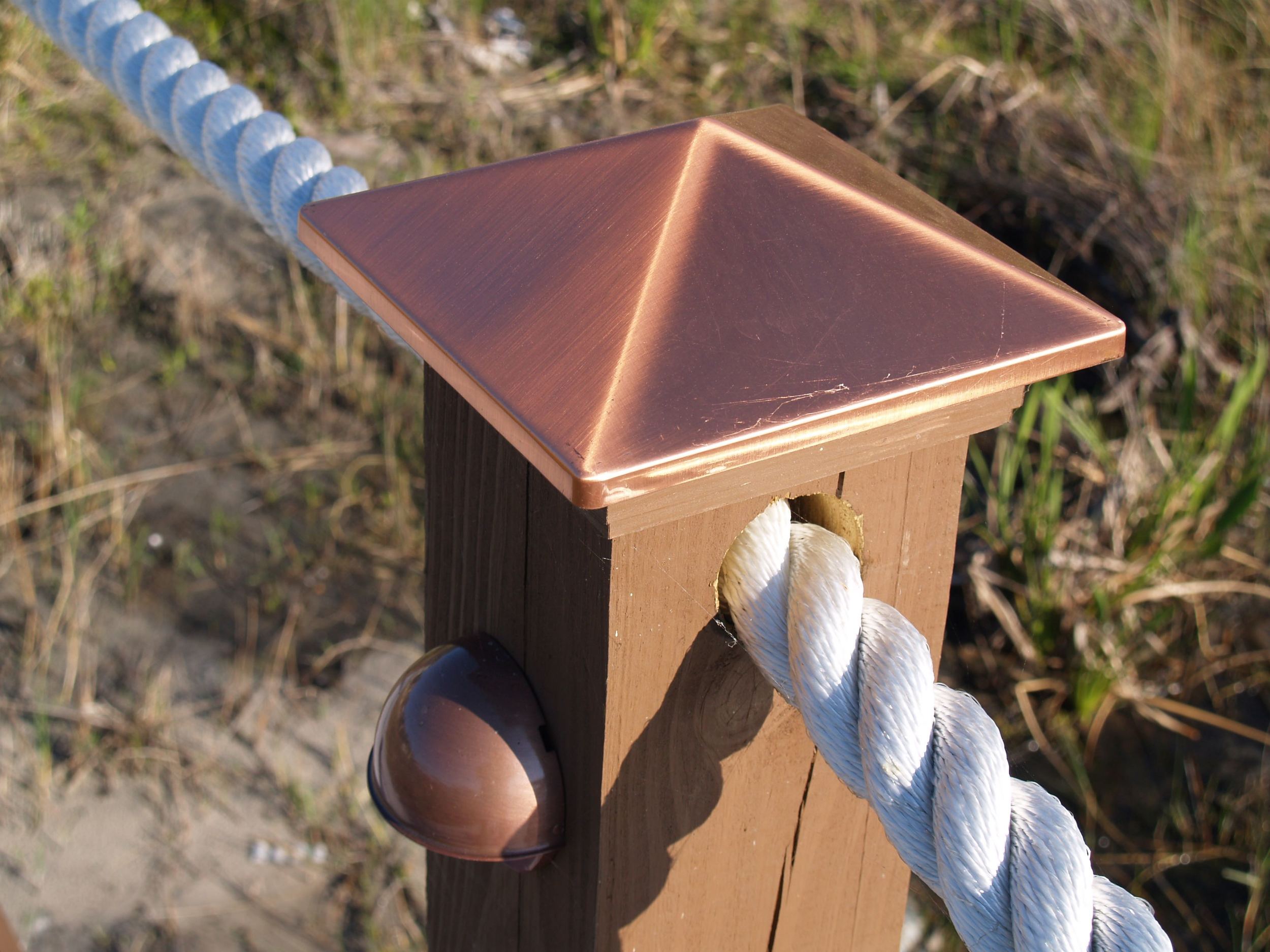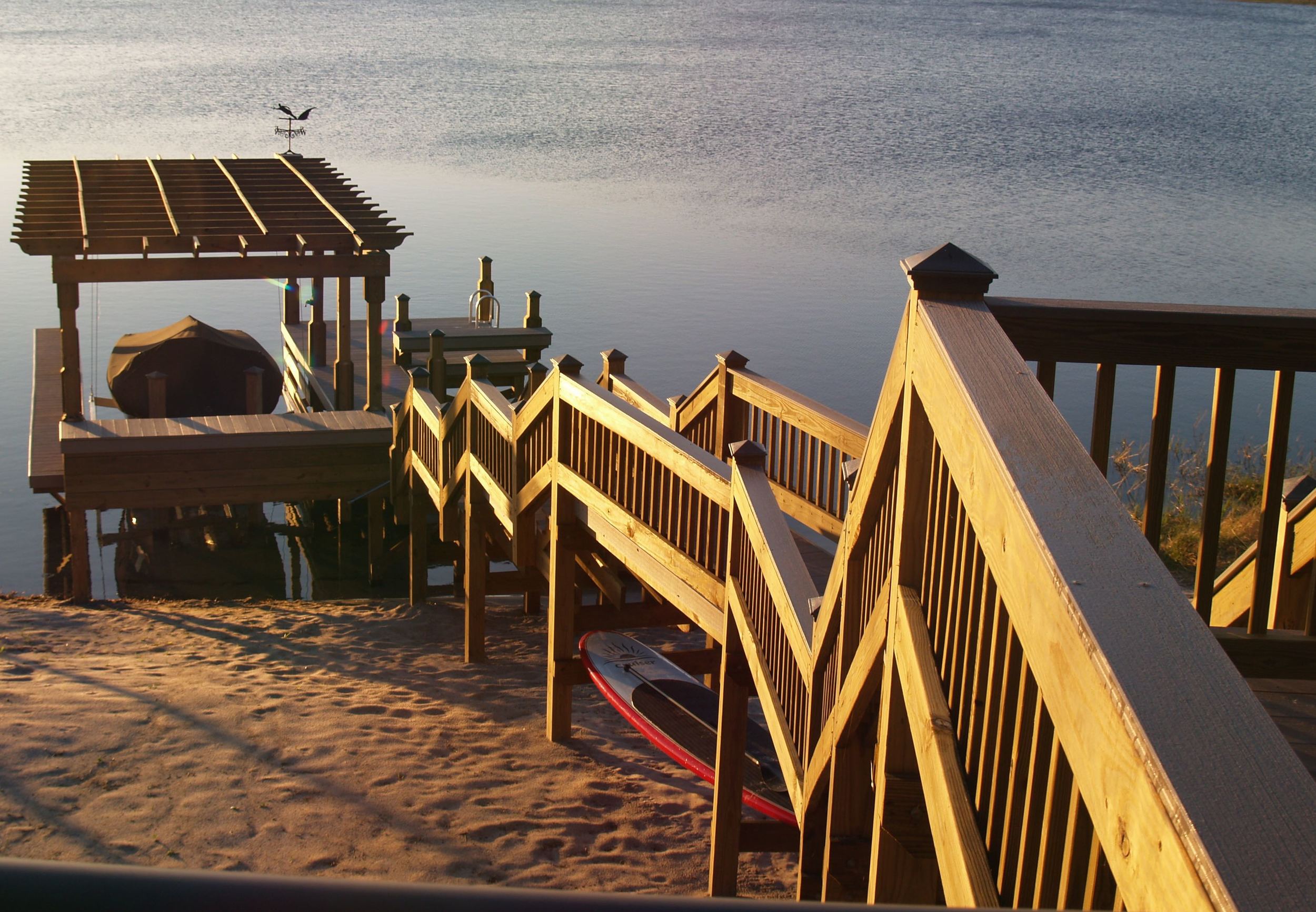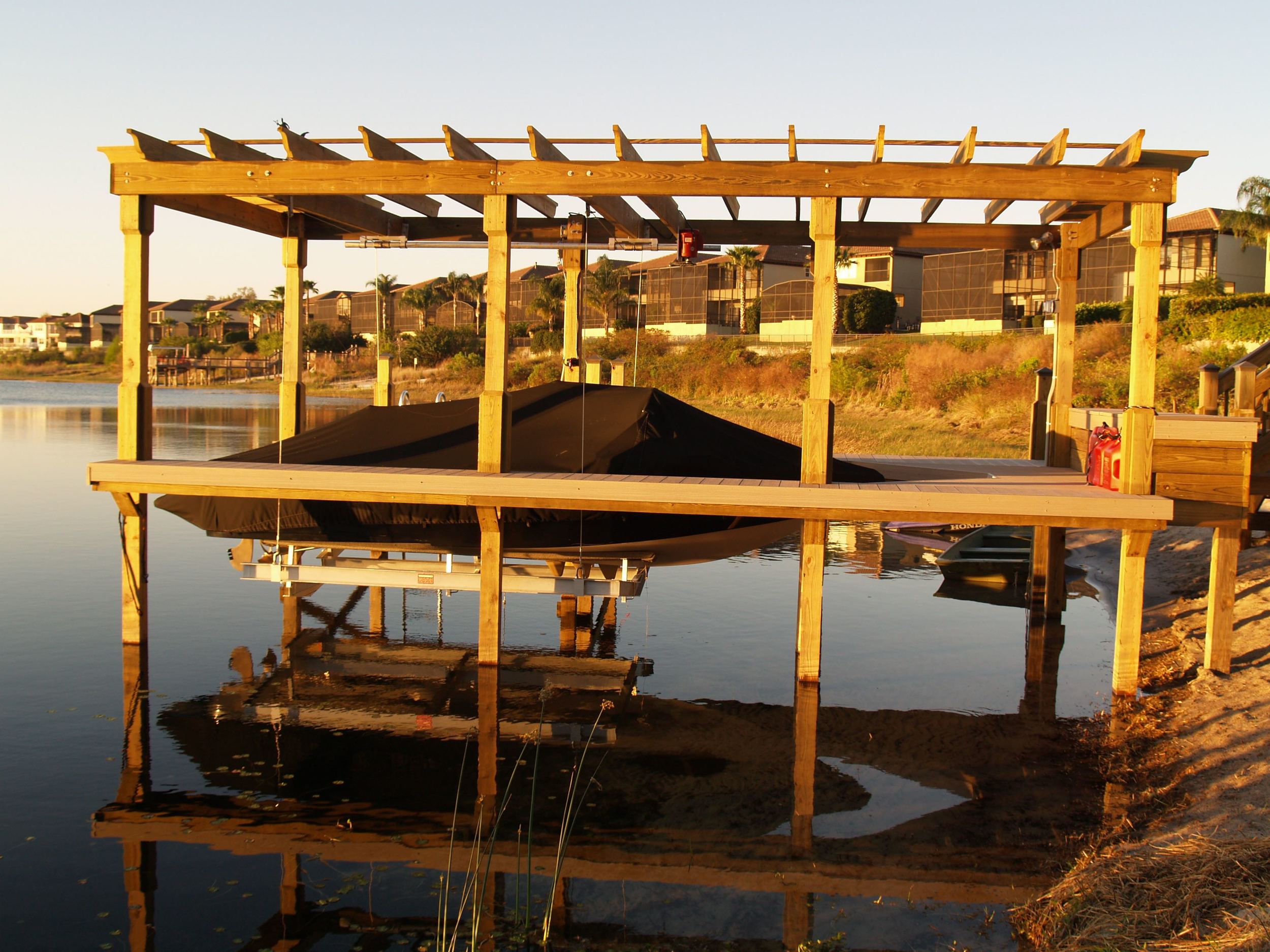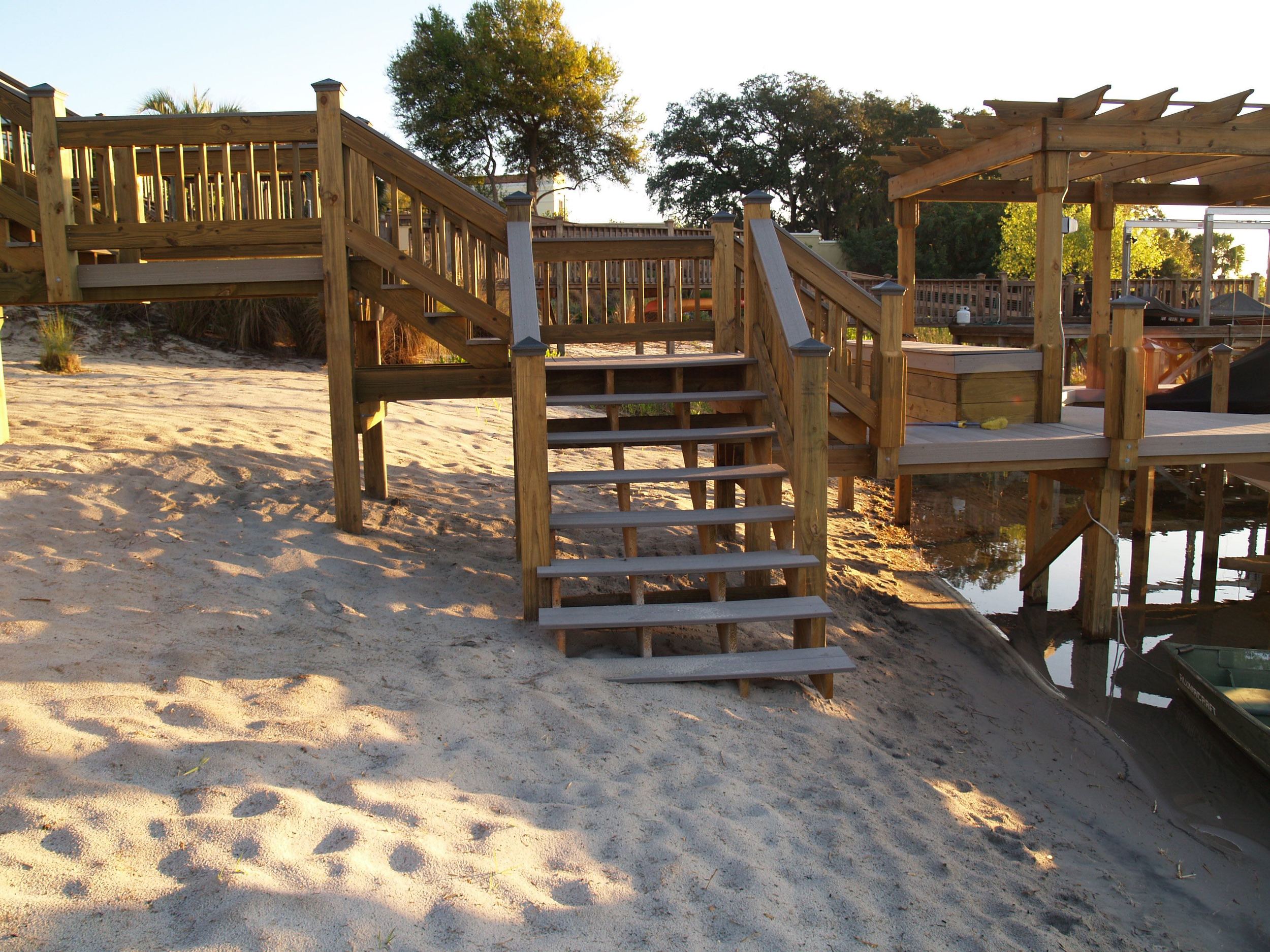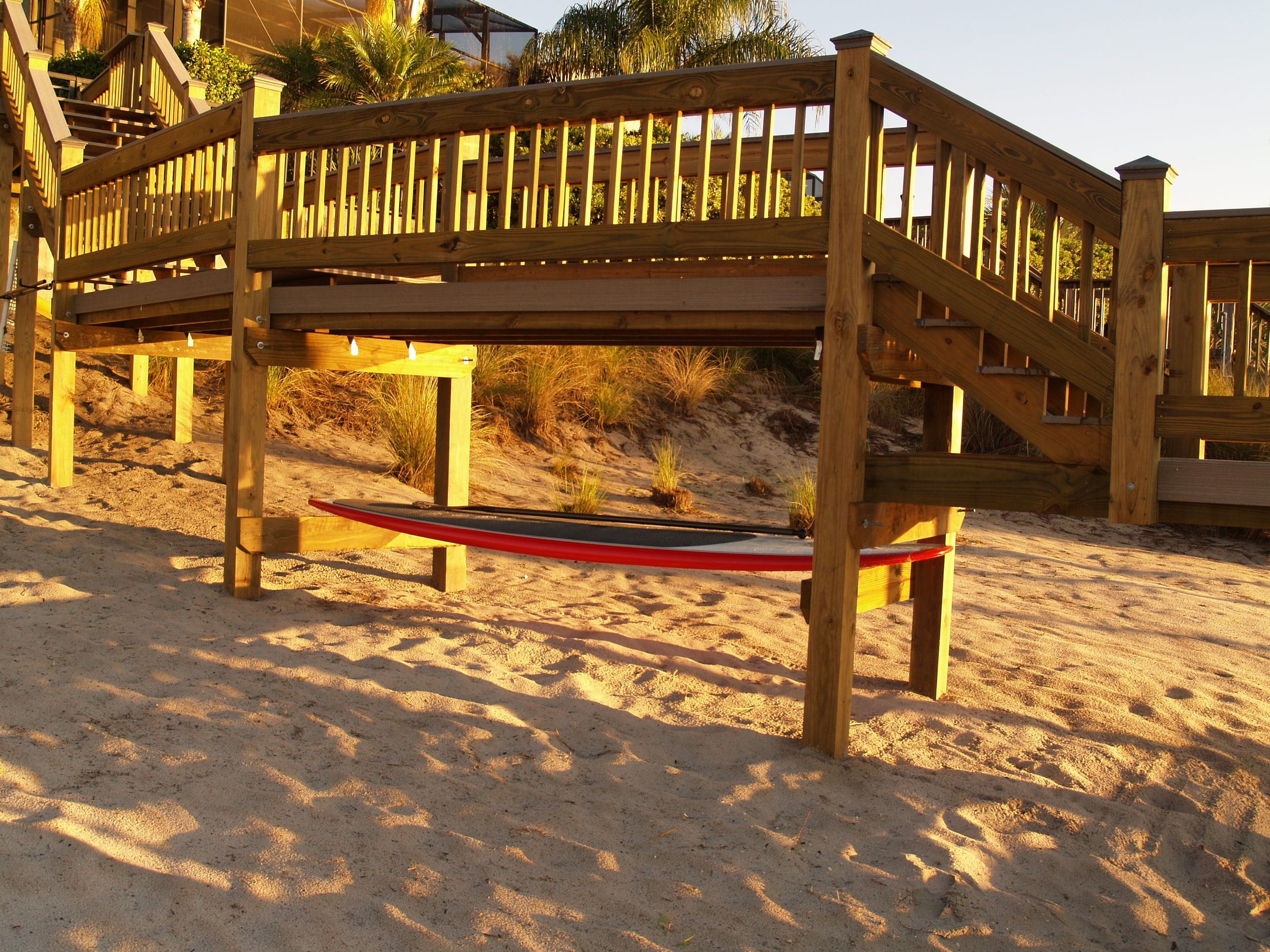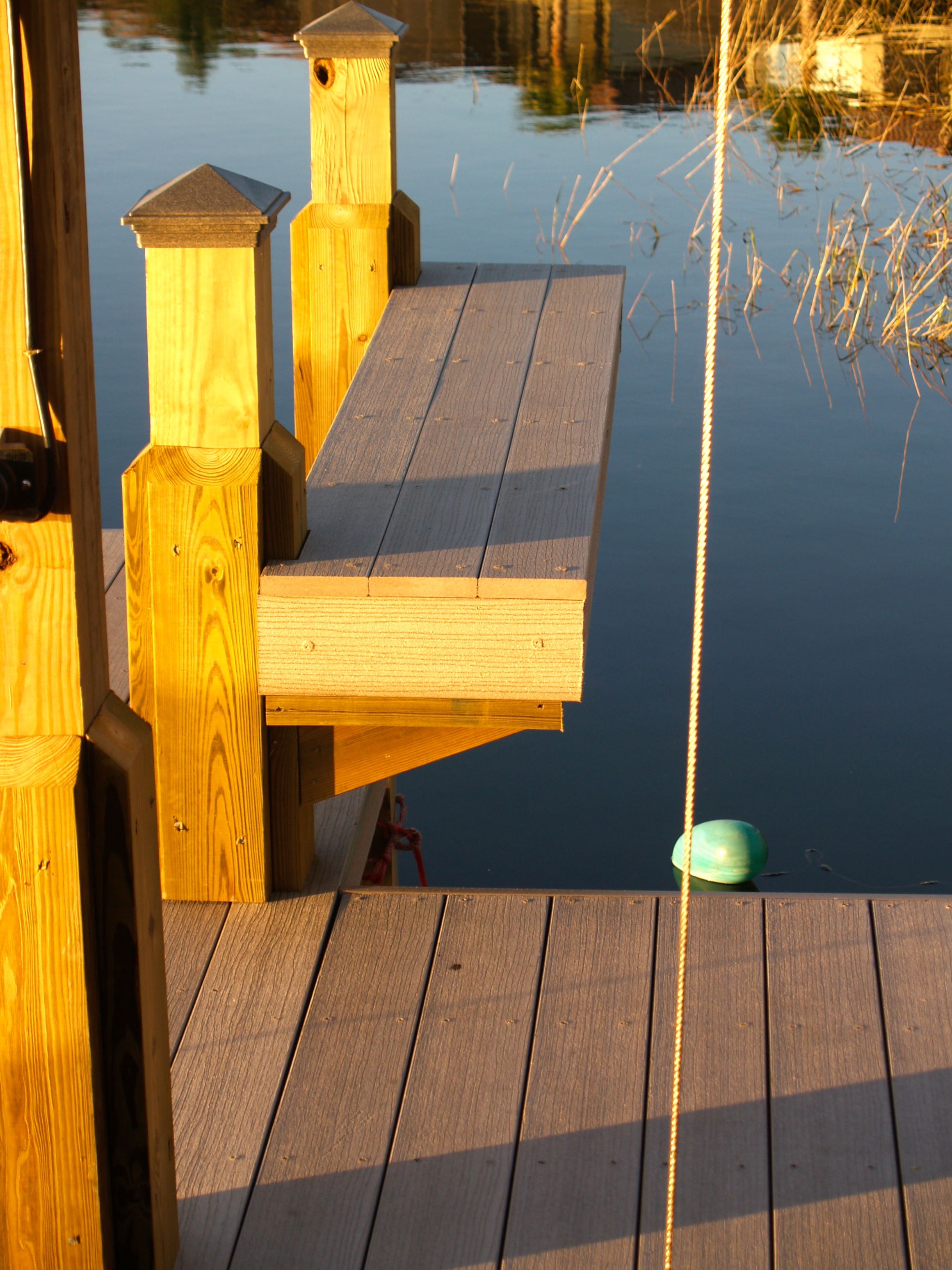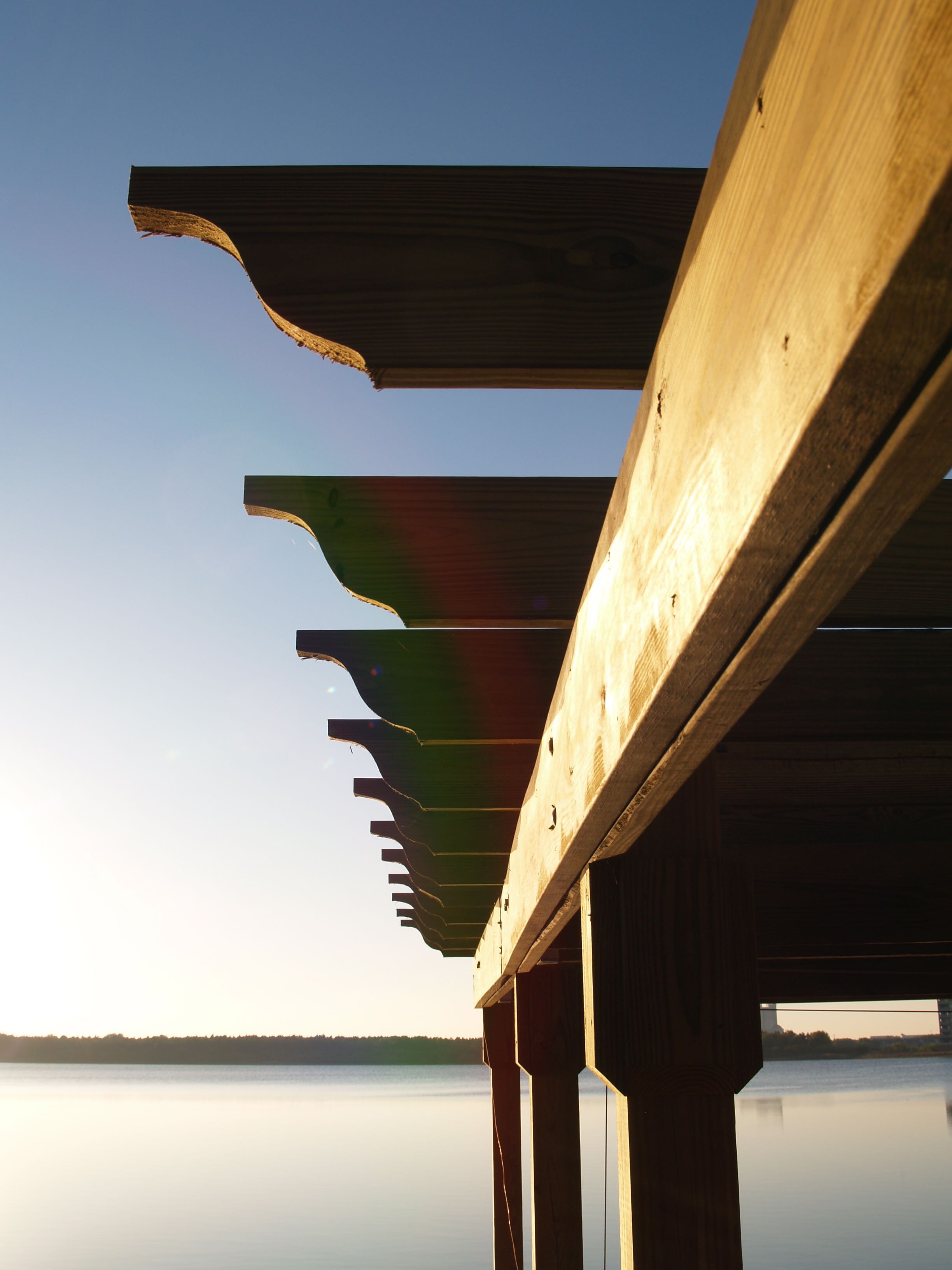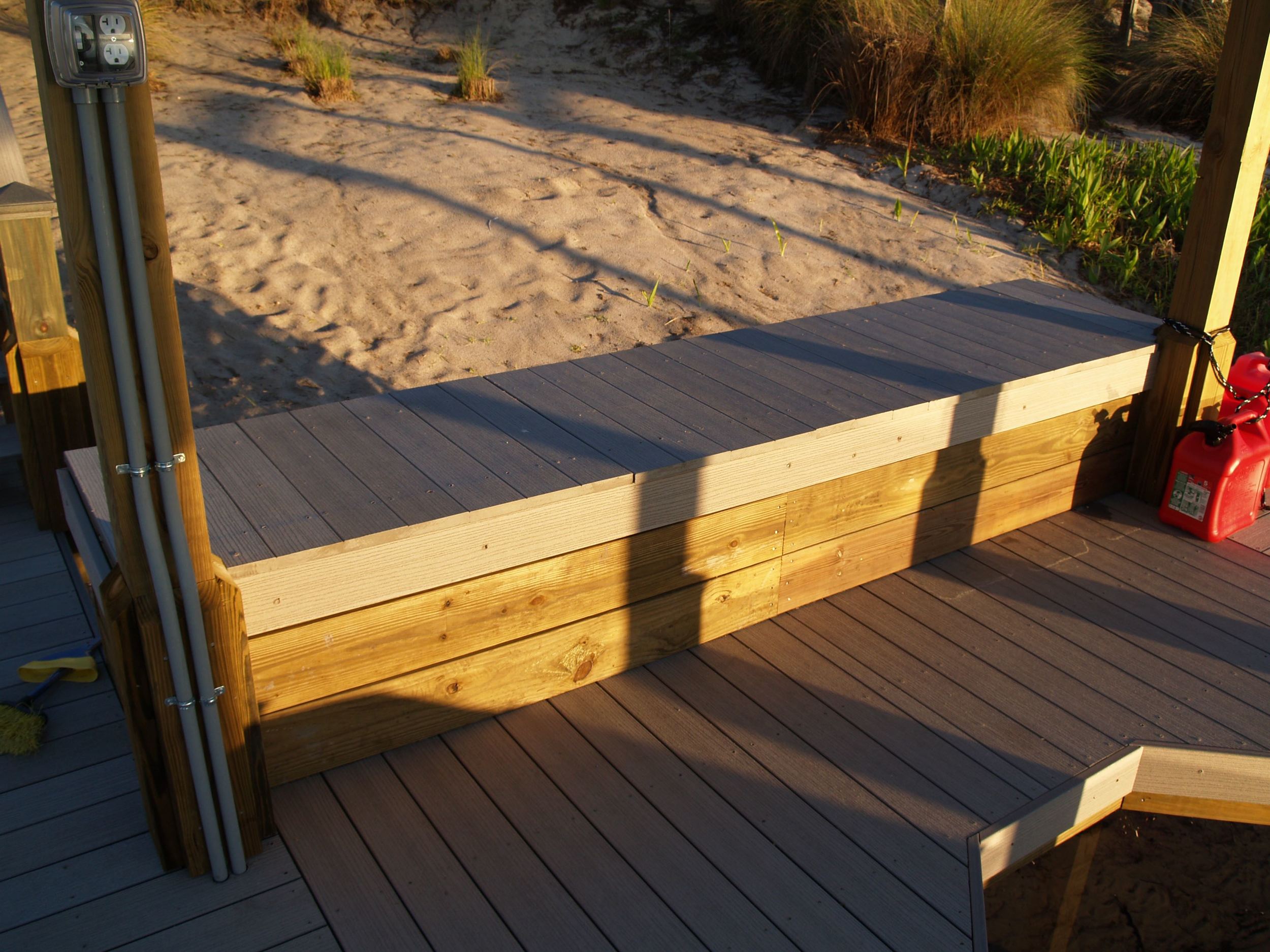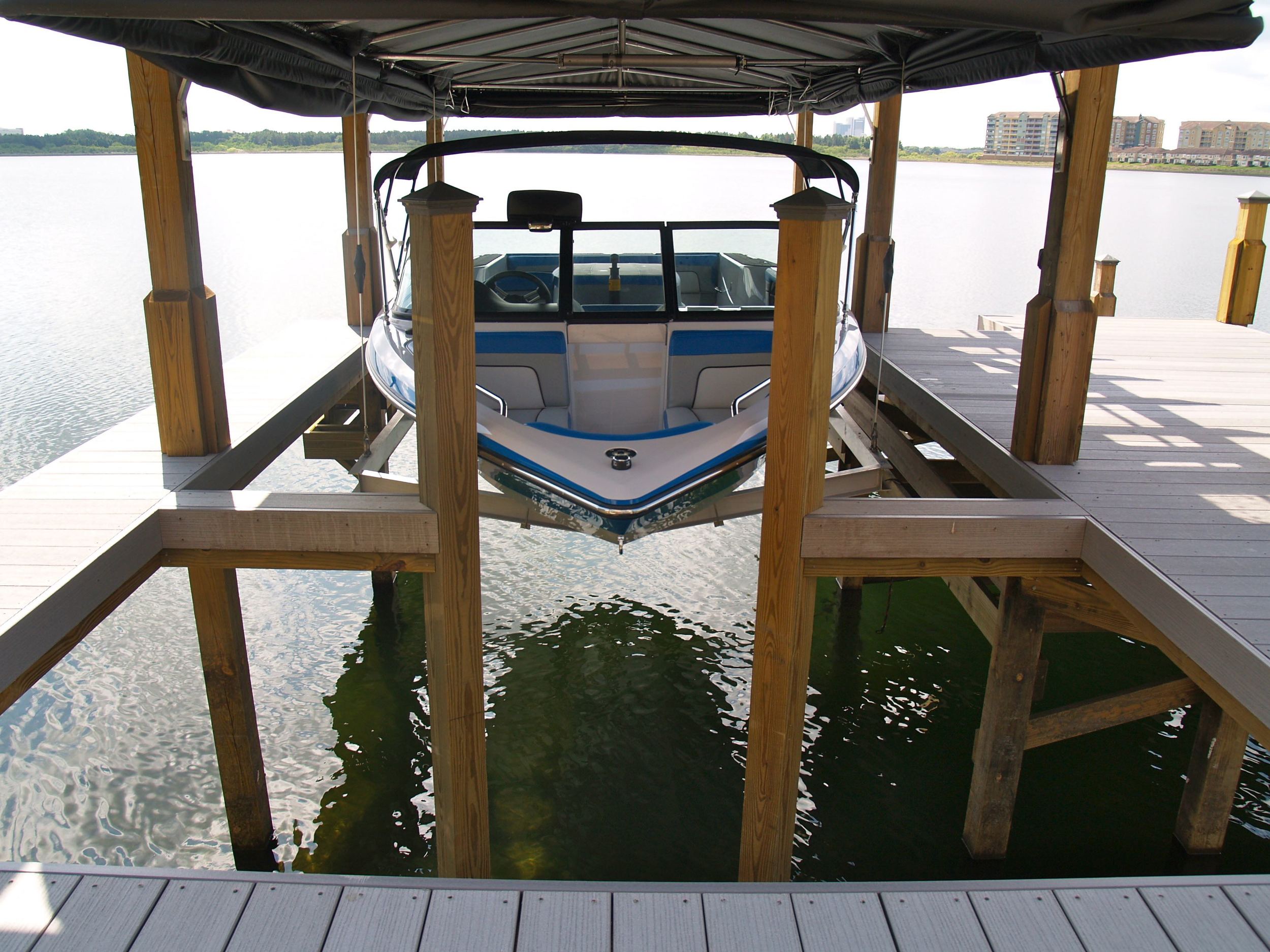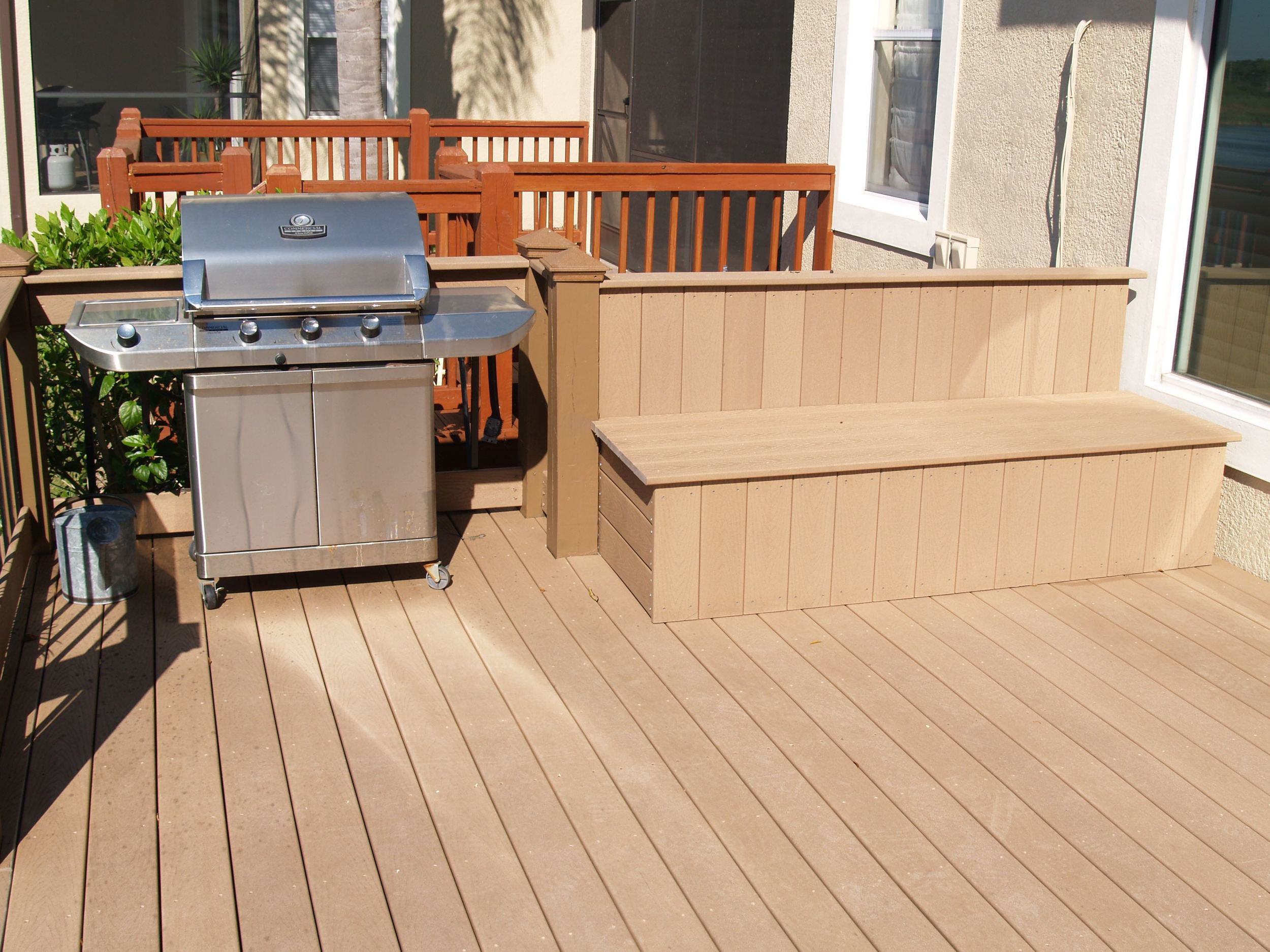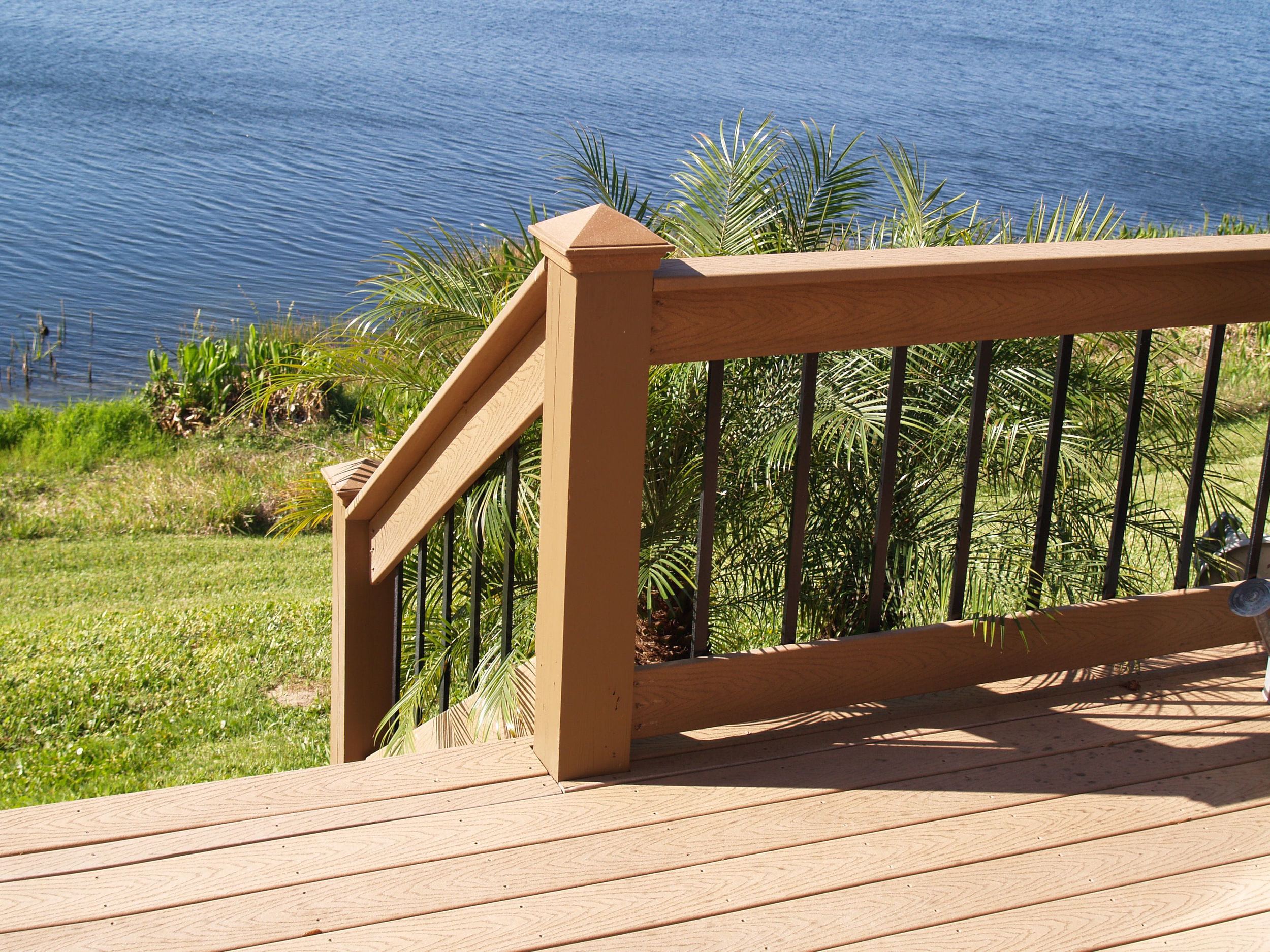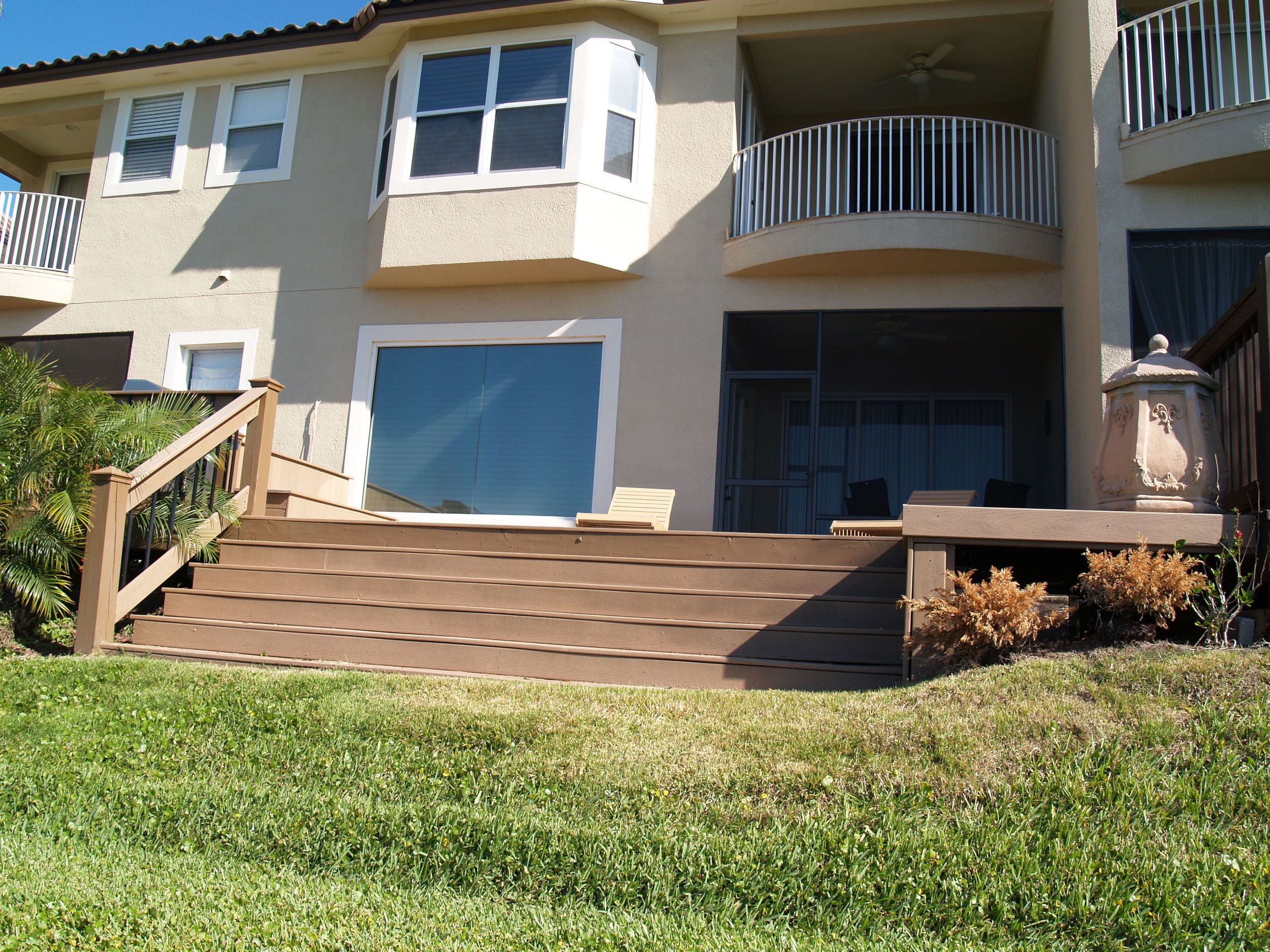 Over Under Jet Ski Cradle
Little Lake Sawyer Dock
An exposed rafter roof blends in seamlessly with the pressure treated decking.
Exposed Rafters
This roof has T1-11 on the underside surface giving the space an open feeling with a "tongue-in-groove" appearance.
Dock Platform
An effective space to allow for loading and unloading your boat without the frills and maintenance of a roof.
Walk in the Woods
A utilitarian pine dock with a boat house and open platform.
Illuminated Post Caps
Every other pair of post caps has LED lights illuminating all 4 sides of the piling to provide a soft visual effect.
Pitch Black Illumination
These caps provide ample illumination even on the darkest of nights.
Dusk Lighting.
Another view of the post cap illumination at dusk.
Illuminated Entrance
You don't need much light for a warm welcome.
Maximizing Space
EverGrain decking running flush up to the fence.
Enclosed Underside of Deck
Because the side is not visible from the house, we were able to enclose it using pine, thus saving the client some money.
Deck with a view
Putting the deck in the corner of the yard allowed for ample play space in the front.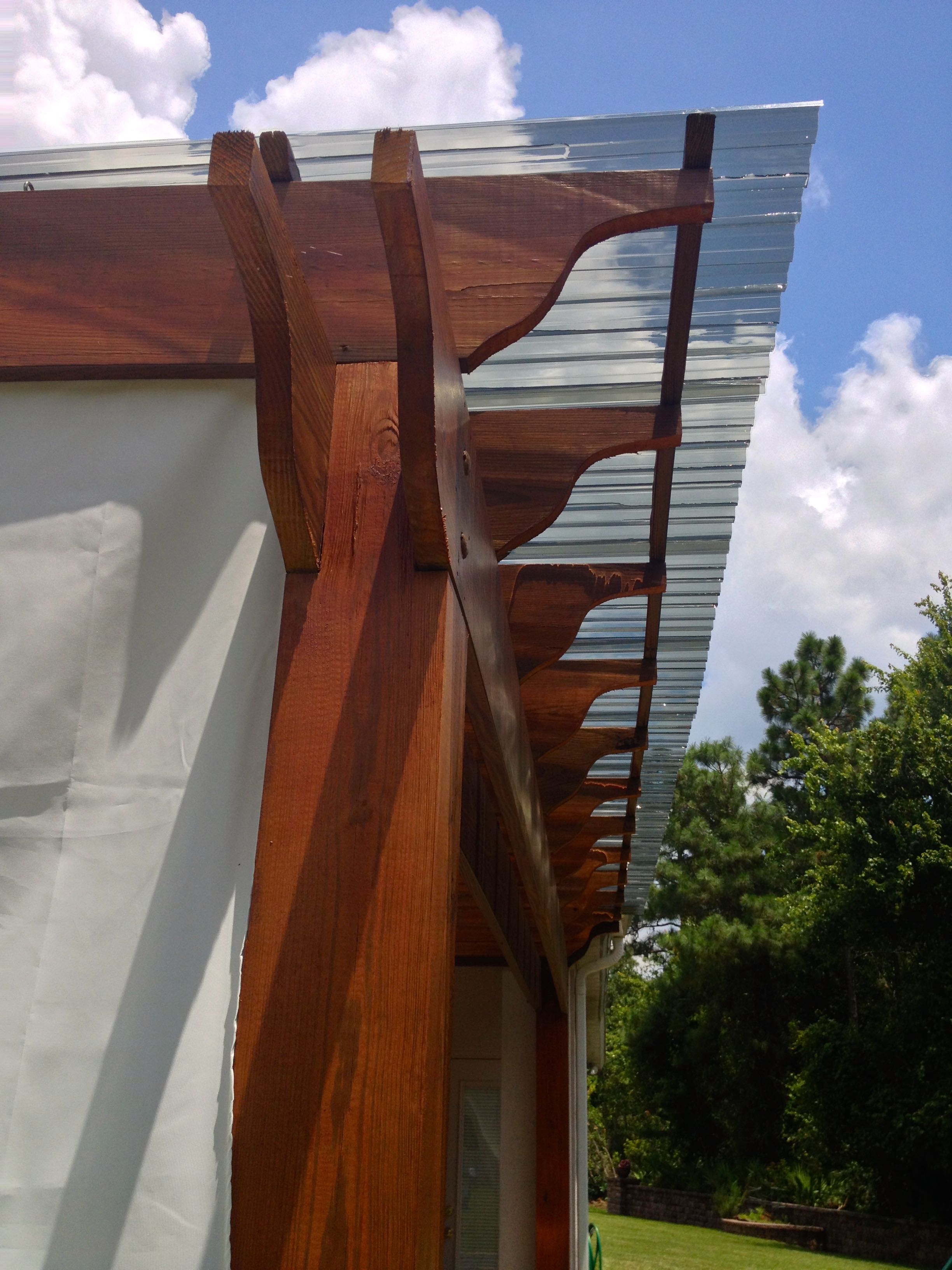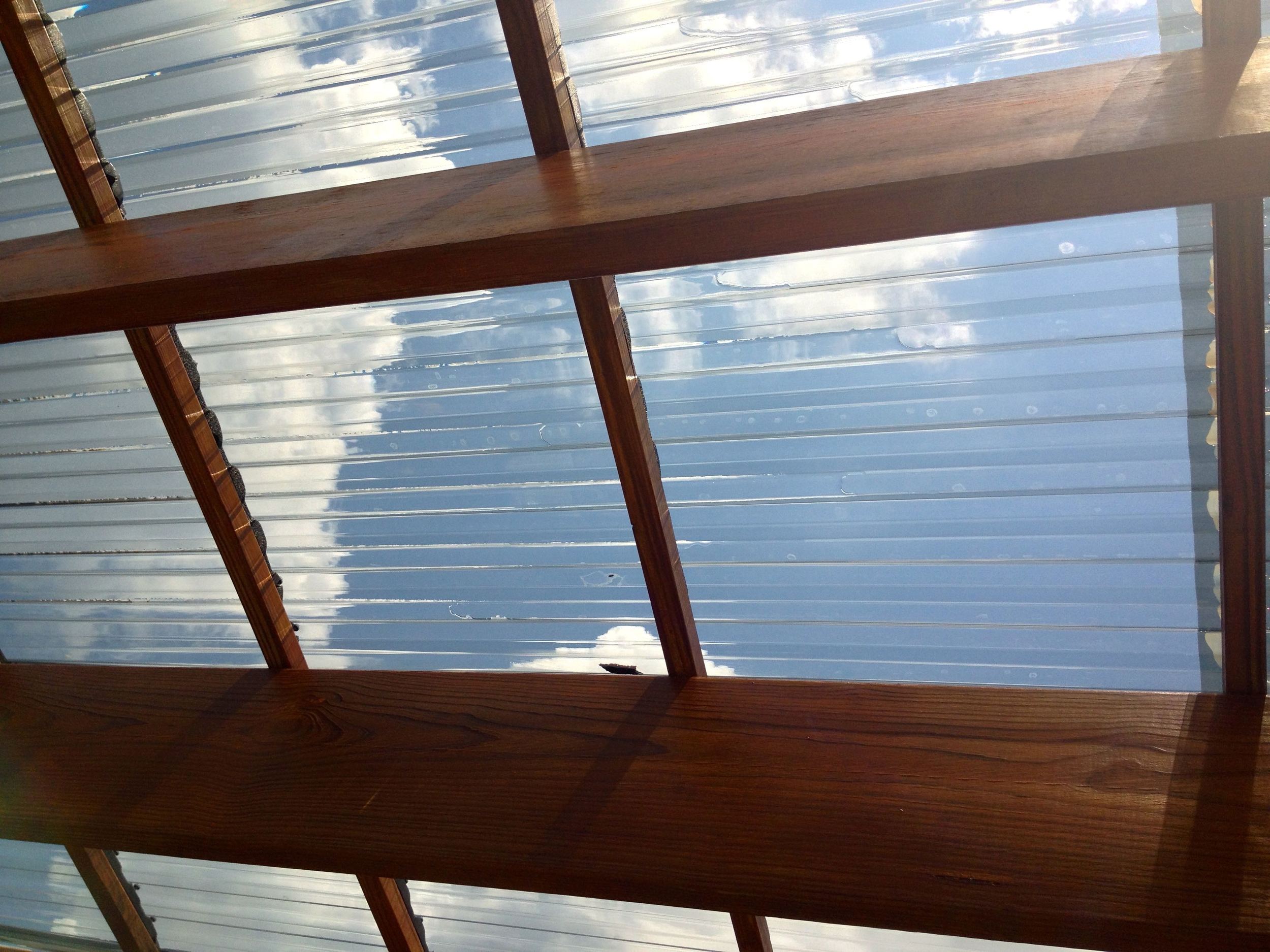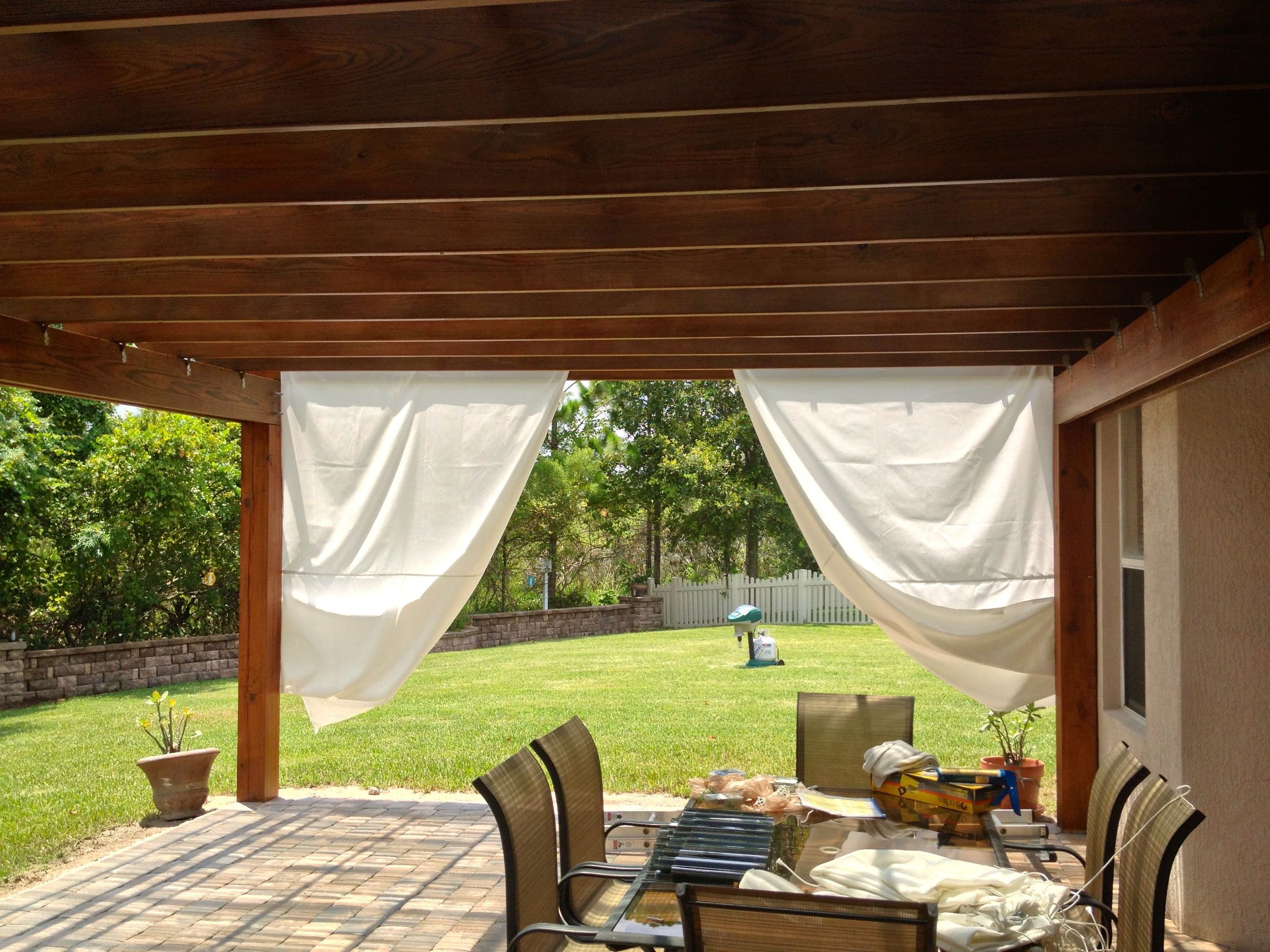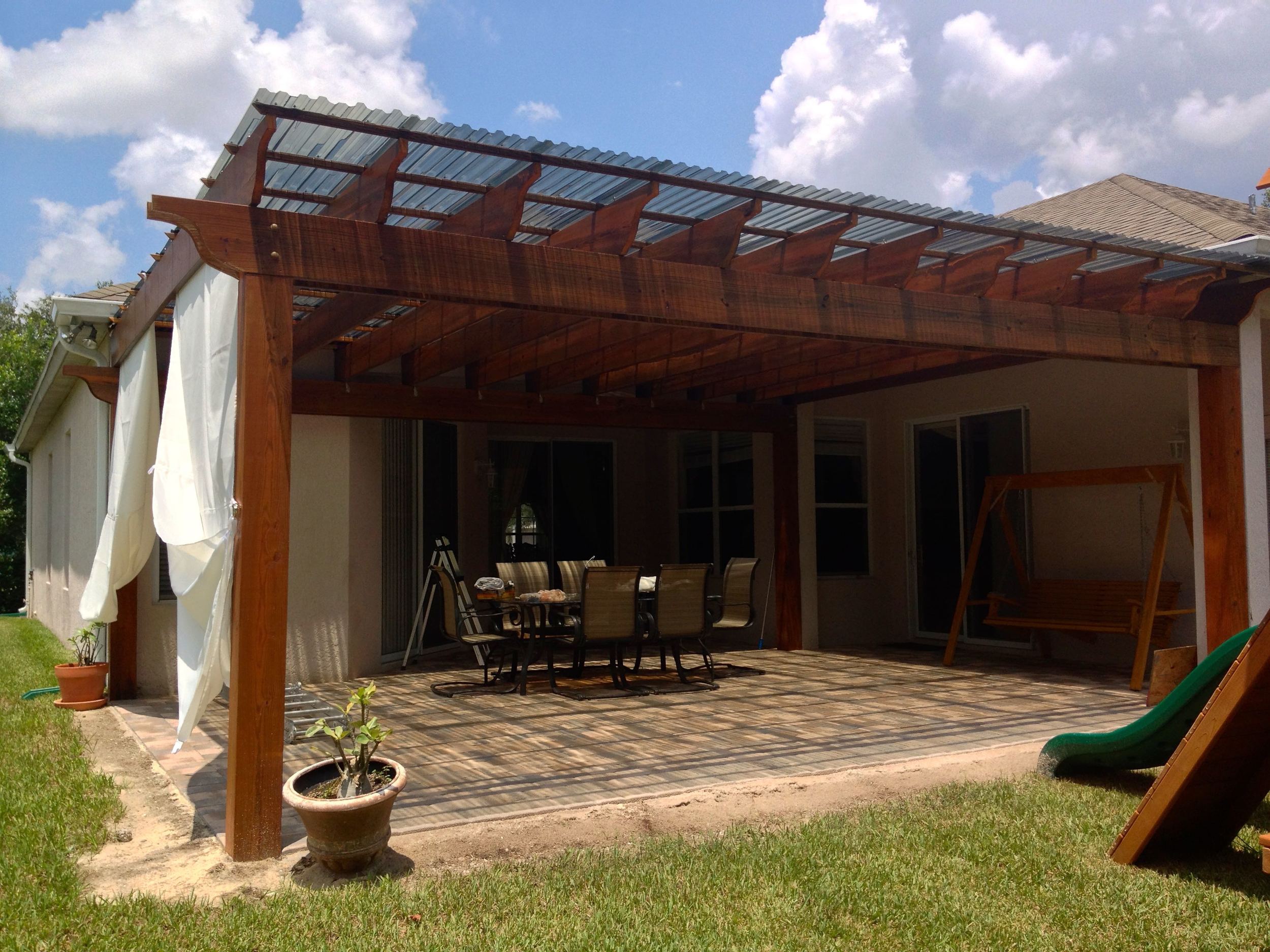 Pergola with See-through Covering
Stacked Fascia Boat House
A classic approach to getting on the water.
Finished Ceiling
A standard Summertime boat house ceiling with exposed rafters.
Transition
This project showcases both a deck and a dock.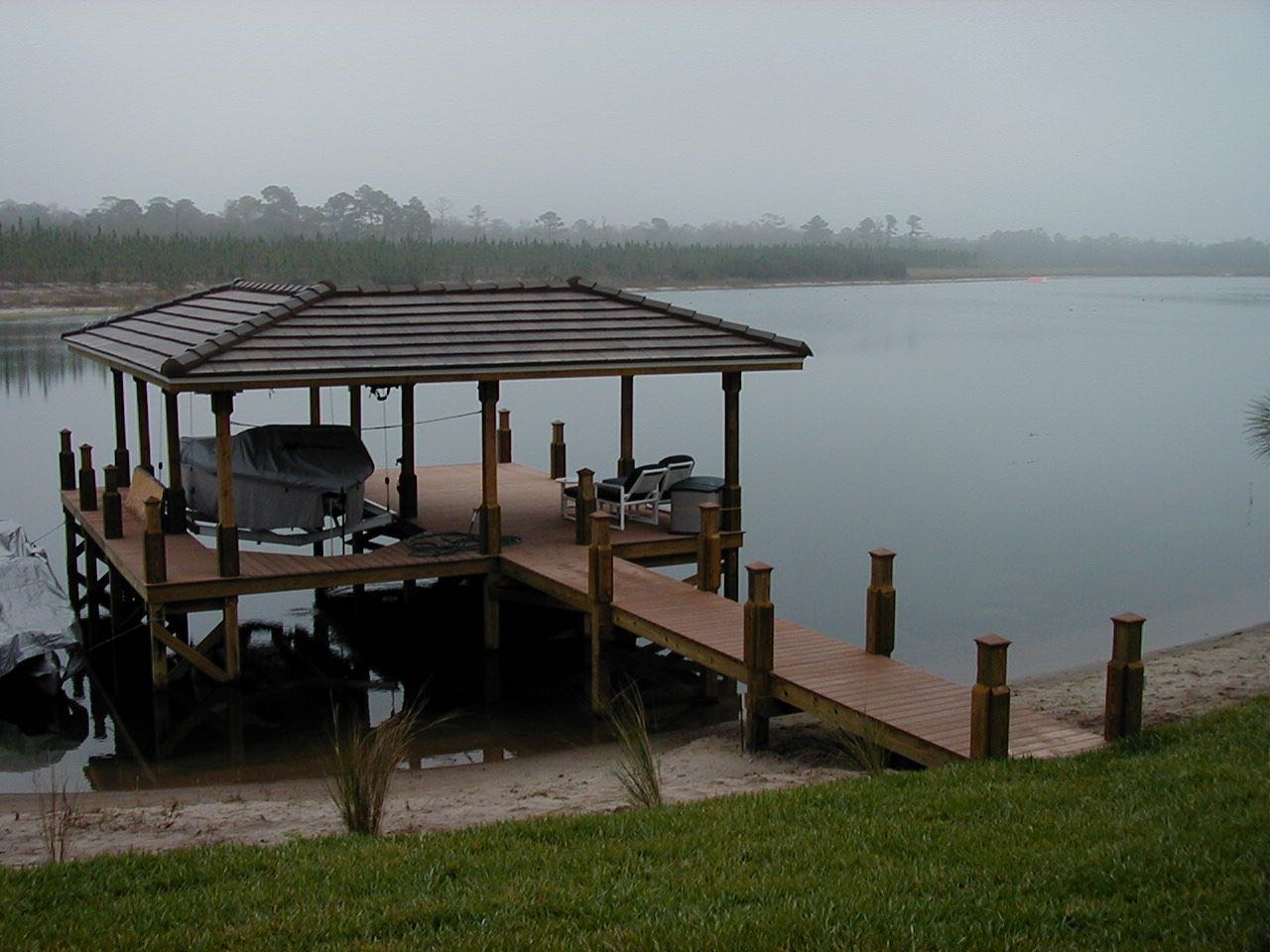 Ski Lake Boat Dock
Nothing like having your dock on a private ski lake.
Clean Lines
We overhauled this dock to give it a modern, clean appearance.
Kayak Rack
Simple and effective way to store your kayak.
Boat Dock with Walkway
The facelift provided to this dock resulted in quite a transformation.
Two Tone Trex
Here is a close-up shot of Trex Transcends Tropics decking as used for a dock walkway. The main color is Tiki Torch with the Spiced Rum border.
Above Ground Pool Deck
The angle of the decking matches the angles of the top of the pool "coping".
Above Ground Pool Deck
A small lounging area along the back side of the pool makes it a great place to partake in the activities while soaking in some sun.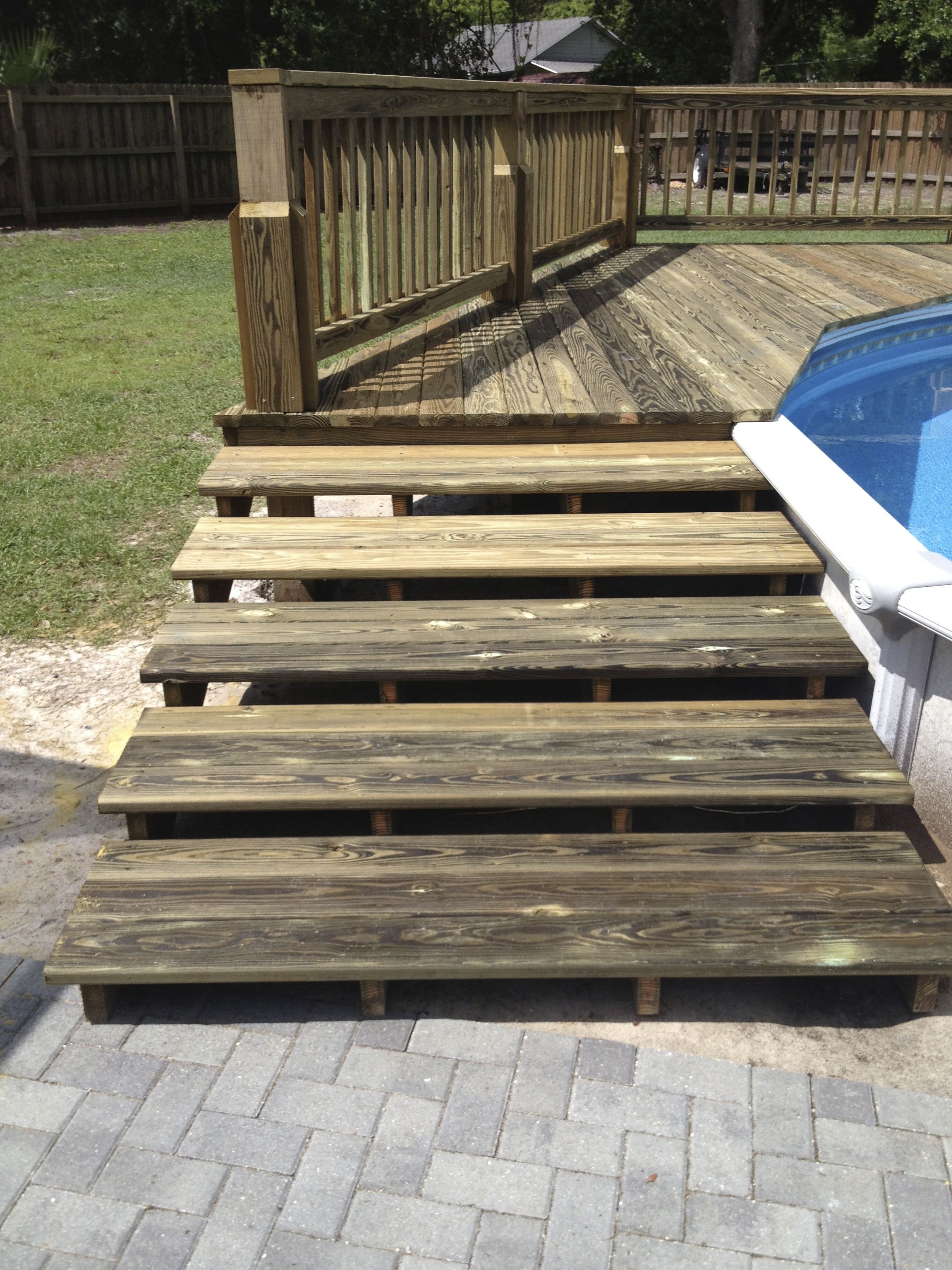 Oversized Steps
The steps were made shallow and deep to allow access for even the most elderly of swimmers.
Balcony with Spiral Staircase
A garage apartment gets an overhaul that adds a great balcony and spiral staircase.
Deck and Balcony for Entertaining
Plenty of room to enjoy the lake views from either the balcony or the main deck area.
Outdoor Living
The continuity of the balcony and main deck area create a harmonious flow for this backyard getaway.
Canal Boat House
Isle of Catalina canal front boat house
Boat House on Canal
Green metal roof really sets this dock apart.
Exposed Rafters
T1-11 and exposed rafters create an open feel.
Trex Walkway
Picture framing is a beautiful thing.
Dock Transition
Seamless travertine transition to the dock.
Trex Dock
Not quite finished with the roof.....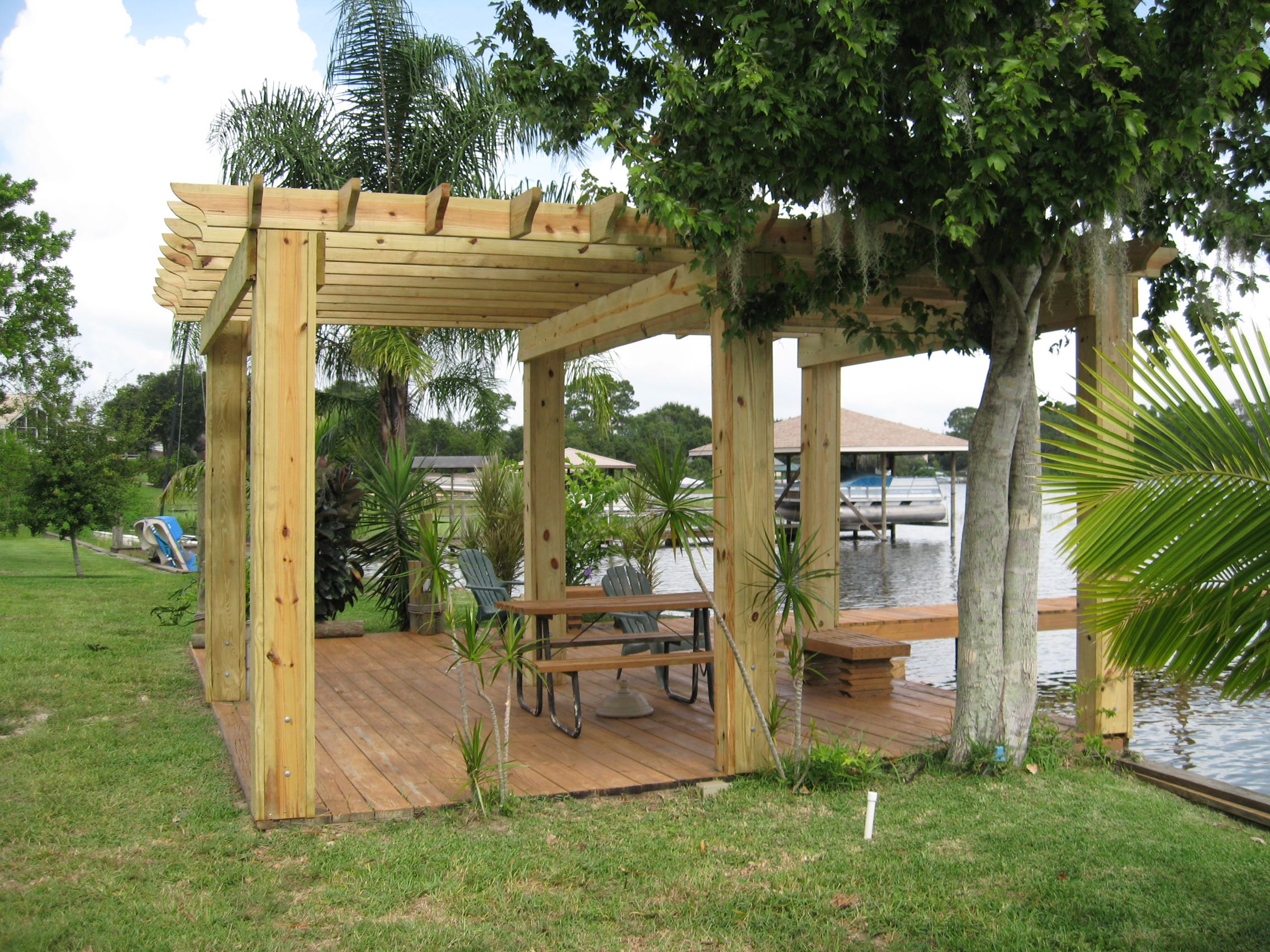 Lakefront Pergola
New pergola over existing deck.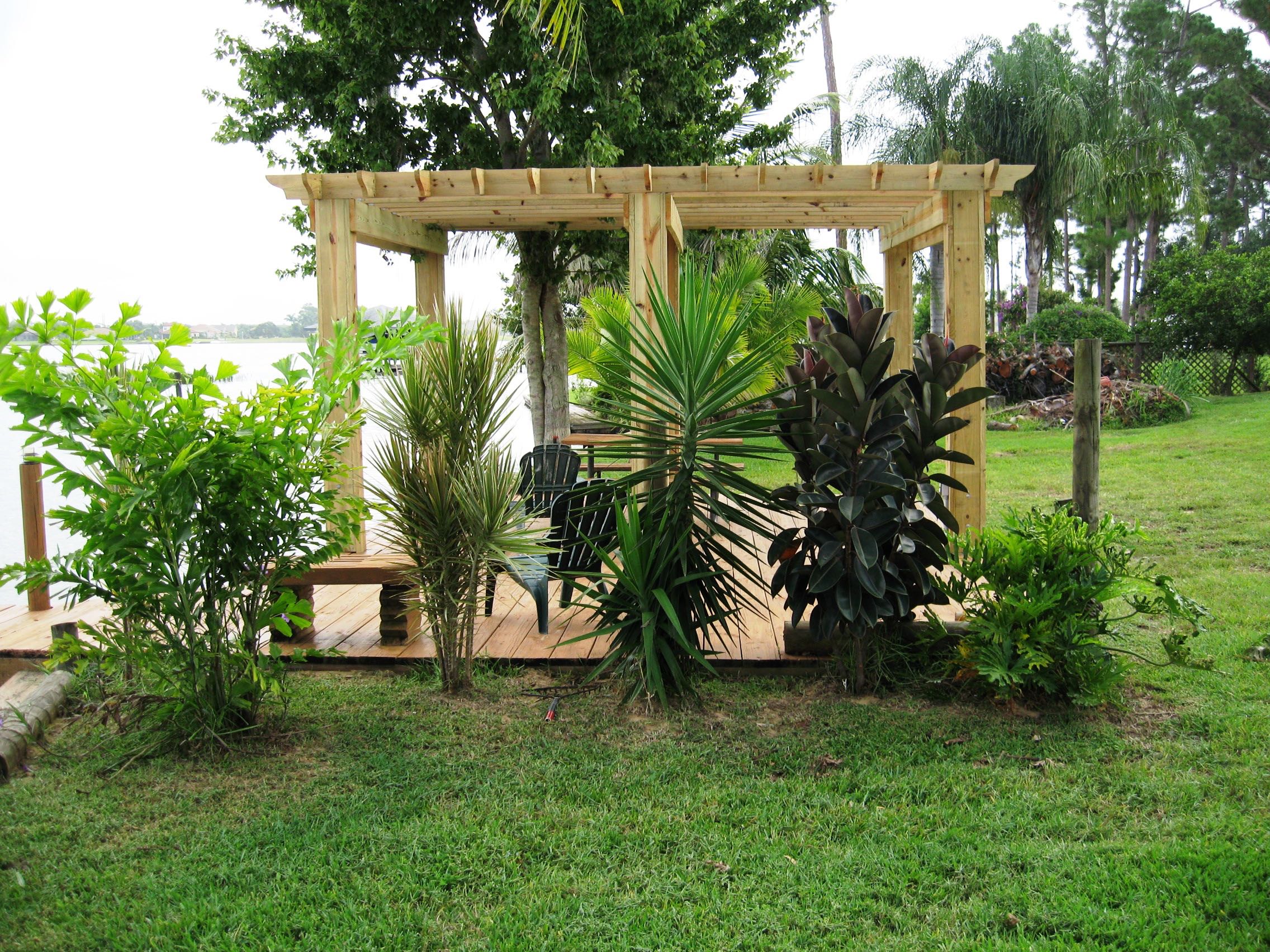 Lakefront Arbor
A private lakefront oasis.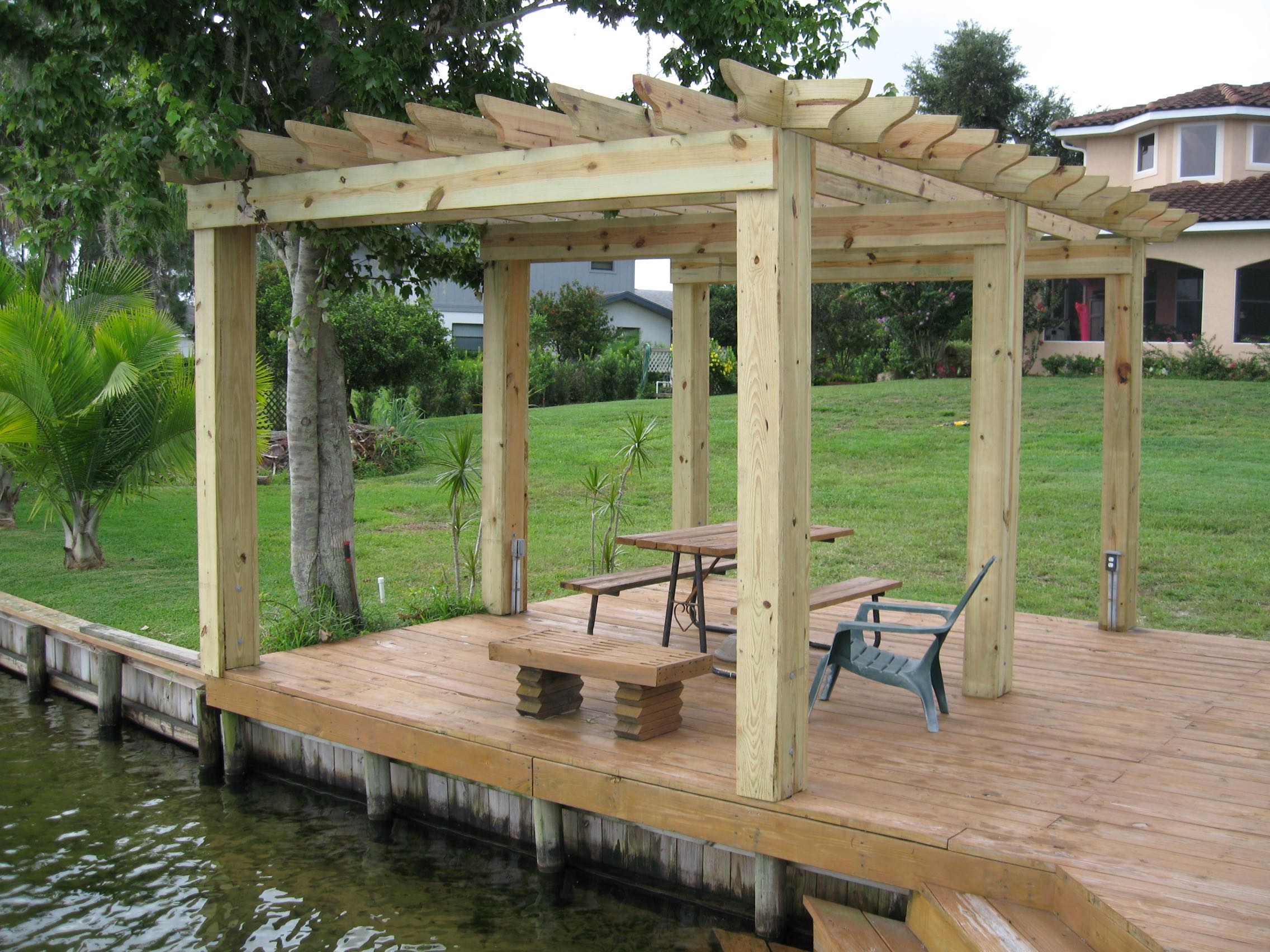 Arbor, Deck, Sea Wall
Lots of wood in a concentrated area.
Large Open Platform
Covered slips with a large open recreation area.
Dual Jet Ski Lift
Slip can house either a small boat or two jet skis (PWCs).
Composite Dock with Tile Roof
A slight jog in the walkway helps to break up the monotony of a straight run.
Two Story Dock
Double decker on East Lake Toho.
Loooong Walkway
Nearly 500' of walkway to get out to this two story dock.
Launch Platform
Great access to kayaks and paddleboards.
Double Decker on East Lake Toho
The view is much better from the upper deck!
Modern Deck
A great way to add a bit more usable space to your backyard...
Deck with Cable Railing
The cable railing has LED lighting that produces a beautiful glow along the cable during evening hours.
Corner Rail Post
Custom made railing system with clean terminations and connections.
Late Afternoon on the Deck
The view from this deck is unparalleled in the afternoon and evening hours.
Bella Lago Dock
A simple and utilitarian dock in Bella Lago.
Functionally Clean
Lighting, power, and water are all concentrated on the single post at the end of the dock.
Viewing Dock
A serene view is maximized when taken in from the end of the dock.
Simple is Good
No frills, just the basics.
Bench and Table
An "L" shaped bench with armrests on the ends and a coffee table.
Two Story Platform
Plenty of room to find your perfect spot with the two levels of usable space.
Ceiling of Double Decker
The finished ceiling of a two story dock structure.
Upper Deck View
Long walkways always look more dramatic from above.
Large Balcony
Using round columns, a spiral staircase and decorative metal balusters, this project really stood out.
Decorative Metal Balusters
Using these ornamental metal pickets really give the balcony character.
Large Gathering Area
This balcony spans the full length of the rear of the home.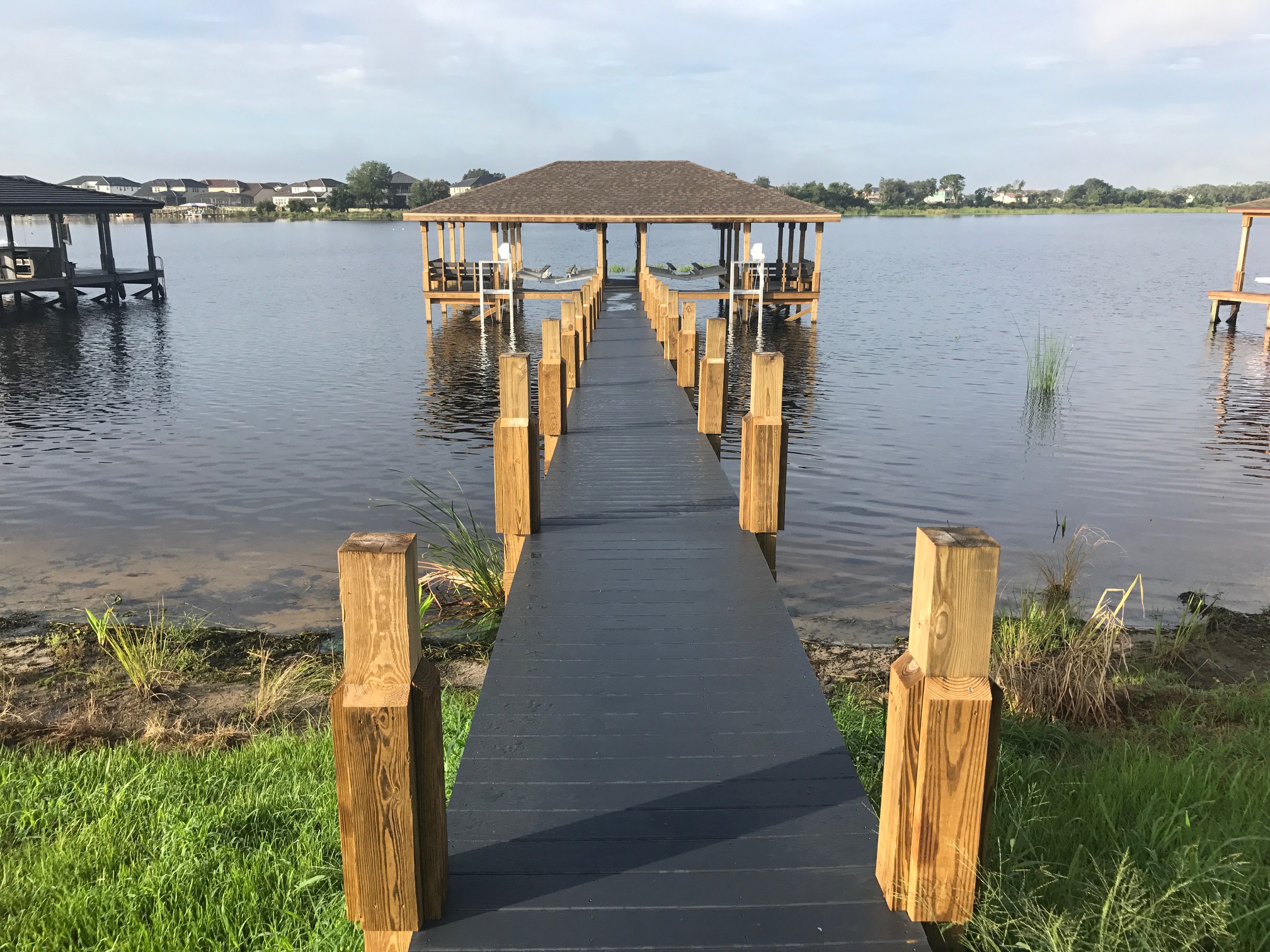 Dual Boat Slips
This dock is a shared dock between neighbors, so what's right, is also left. Boat slip and jet ski lift for each neighbor.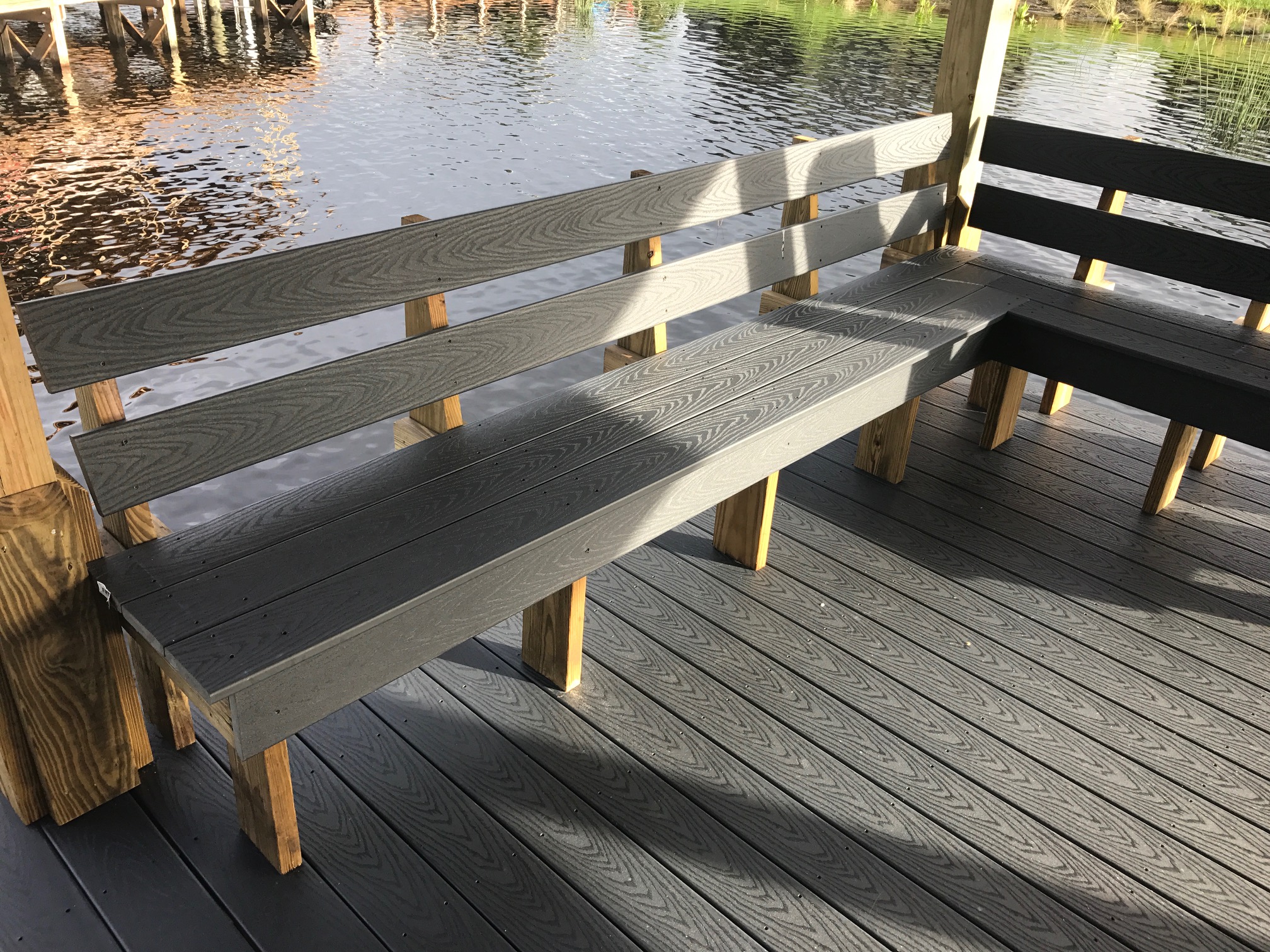 Sit a spell
When you need a place to wind down, this bench is waiting.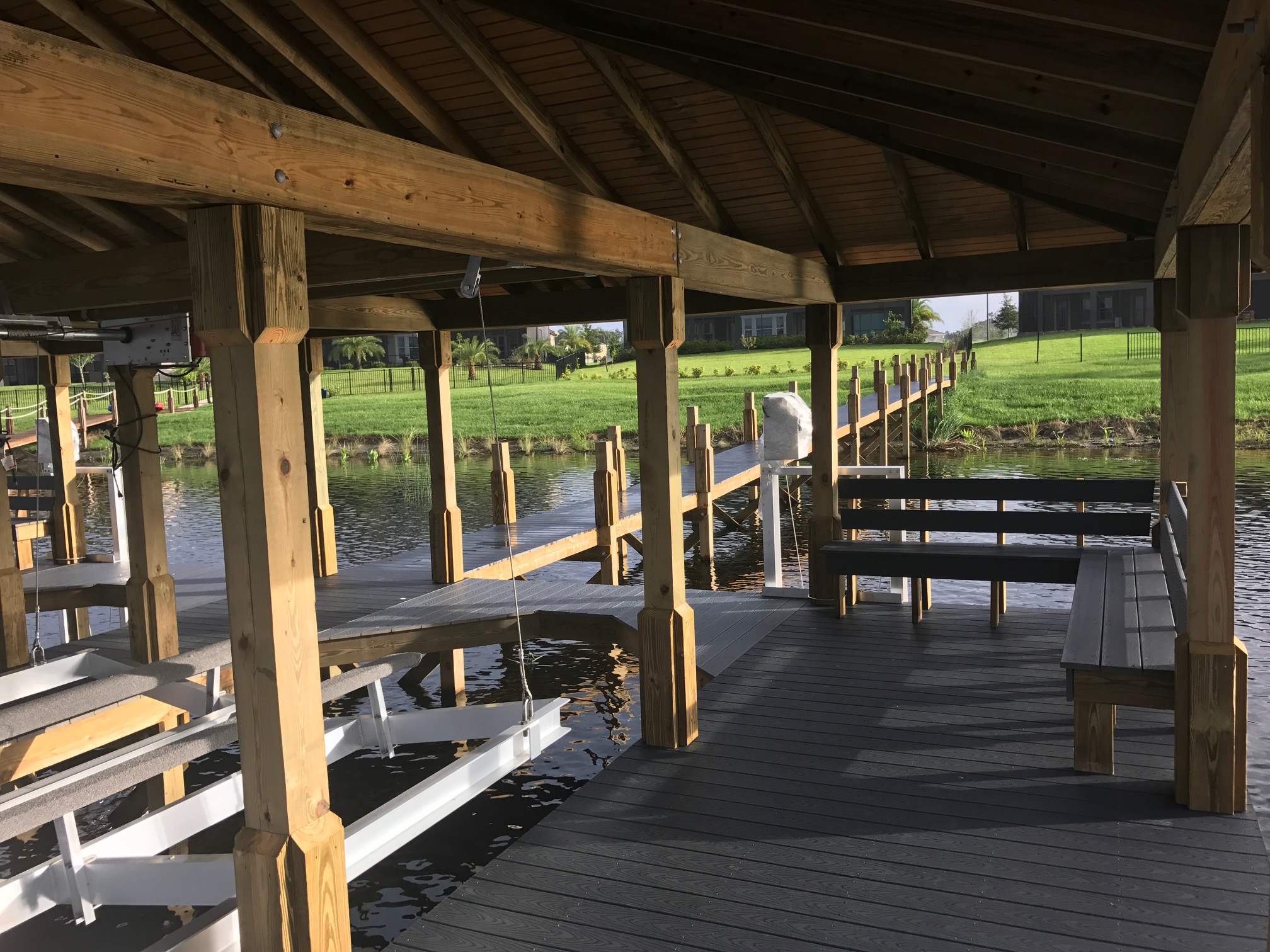 Summertime Sunshine
When you need a smile, head outside. This dock has a great two-tone appearance with the natural wood tones contrasting against the grey decking.
Unique Walkway
This beauty had great water depth just off the edge of the shore. Contrary to most installs, the walkway starts along the shore for this project.
One Step at a Time
Sure, you could use a swim ladder, but why not have a set of stairs leading into the lake? This ensures that you'll always have a step that makes it easy to get on/off your paddle board or kayak.
Party Seating
When you need seating for your whole family.....
Cable Railing Standard; View Optional
Double decker docks may not always be practical, but when you have the opportunity to gaze out from the top level, it's all worth it.
No Roof, No Problem.
In an HOA where roofs are prohibited, the boat lift (and boat) are left visible and unprotected from the elements.
Worth the Walk
It may be quite a walk to make it down to this platform, but to have an undisturbed view from an elegant platform is definitely worth it.
Ease of Access
Looking for an easy way to get in and out of your kayak - here it is.
Fire It Up!
This unique dock has an upper deck that looks down over the octagonal fire pit with built-in seating.
Roof Top Deck
This upper deck is hidden from view from the house, resulting in a matching tile roof appearance from shore. Great private setting for hosting intimate gatherings.
Angled and Multi-leveled
Due to lake fluctuations, our client wanted the dock to be split into two levels - and he wanted the difference between the levels to be visible.
Steps galore!
Instead of hiding the stairs, we worked with our client to make the stairs a focal point of this deck.
Hamm-octagon
Our clients wanted to put in a unique area for their hammock. Does an elevated corner octagonal platform work?
Clean
With a two-tone picture frame border and no pilings extending above deck level, this walkway and platform shout clean and classy.